Lois and Brian, interior designers from British Columbia, found that their lack of carpentry and masonry experience didn't prevent them from updating a customer's fireplace design with faux stone style.
DIY with Synthetic Stone Panels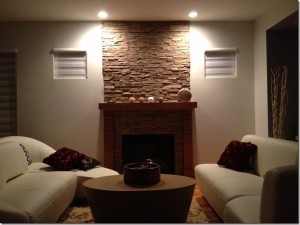 The results of Lois and Brian's hard work are impressive.
"When we started work on this customer's home, it had a deep niche above our fireplace," write Lois and Brian, of Lois Lee Interior Design. "We didn't like it, so covered it up."
"However, after doing so, we felt the wall looked very bare - and we both felt like something was missing. Thank goodness we came across your Faux stones website!" As soon as Lois and Brian saw our synthetic stone, wood, rock and brick veneer panels, they started to think of ways to liven up the dreary wall.
"But coming from absolutely zero experience in hands-on masonry work, we were afraid, intimidated and doubtful about getting the faux stone right," Lois admits. "Fortunately I contacted your customer service more times than I can count and received excellent service plus quotes immediately."
"Your customer service representative, Shari, was great in assisting me in every way possible! She gave me the confidence I needed to DIY this project. It was fast, easy, and looks great."
Even better, unlike using real stone façade, or brick, the preparation required was minimal.
Molded from durable polyurethene, our synthetic stone panels perfectly capture the look and texture of real dry stack walling.
"What's incredible is that we didn't even have to move away the huge sofa, which is only a foot away from the fireplace. It stayed there while putting up the faux stones!"
As you can tell from the before and after photos, the results of the transformation are impressive; and you don't need to take our word for it.
"Everyone cannot believe that it is not real and thought it was professionally done. The only regret I have is not doing it sooner!"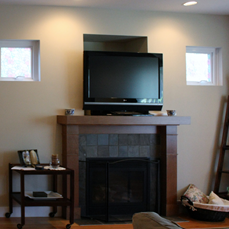 Lois and Brian had an ugly niche in the wall they wanted to cover up with synthetic panels.
Lois and Brian kicked off their project by covering up the niche, before adding faux stone panels.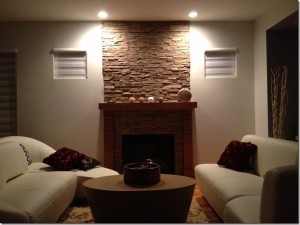 Fireplace design complete