Now that summer is here, many homeowners are planning to make the best of the season by spending more time in their outdoor living spaces.
Outdoor Patio Kitchen DIY
For some, that may mean adding new garden boxes to their deck, building a fire pit on their patio, or putting a new table on the veranda.
Richard from Texas decided to take on a little bit bigger project - building an outdoor patio kitchen next to his detached garage. The finished product would include a BBQ grill, cabinets, counter space, and a sink.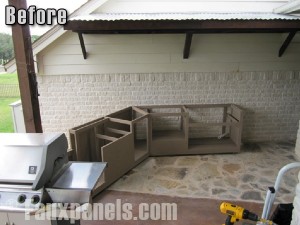 Since the cabinet portion of the area was exposed to rainfall, however, his design required that the base of his new kitchen cabinets be elevated, so that rainwater could drain under them. He therefore knew that using actual masonry to cover the cabinets would pose a challenge, due to the inconvenience and weight of real stone.
"Only FauxPanels would provide the look of masonry yet allow us to leave the required gap beneath the bottom row of 'stone' and the ground to afford the patio to drain off below the cabinets."
About the installation procedure, Rich said: "It was so incredibly easy. After cutting a panel to size, I'd zigzag a bit of construction adhesive to the backside, stick it in place and throw a couple sheetrock screws in to hold the panels until the glue set. The panels' drystack stone pattern afforded me the ability to start and stop, and patch and piece panels as needed. The seams aren't even noticeable and I never even tried to 'line up' the patterns."
Once Rich had the granite countertop installed, and the kitchen was complete, he was able to stand back and take pride in the space he'd created.
"The finished product was a thing of real pride," said Rich. "What an incredibly easy, fast project. Why did I wait so many years before tackling this project? The difference was the panels. Once I watched the videos and read the blogs on your site, I knew this was the product that would allow me to build it successfully."
For more ideas on outdoorsy type projects, take a look at this photo gallery.