A popular idea for homeowners is to turn their basement into a man cave. Jason Cameron and Tony Siragusa, hosts of DIY Network's hit TV show Man Caves, used Nailon Char Brown Brick Panels to help a former marine create a martial arts-themed basement dojo.
DIY Network's "Man Caves" Makes Basement Dojo
<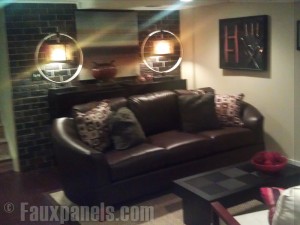 As a former marine, John Latham is no stranger to personal discipline. Years of military service honed his body into a deadly fighting machine – and since leaving the force, he's continued to keep himself at the peak of physical fitness through a rigorous training routine. That's how he continues to hit hard and heavy on the professional martial arts circuit.
But maintaining that extreme level of fitness isn't easy – especially when real-world responsibilities like work and family intervene. As John found himself working longer and longer hours, fitting in time to hit the training mat became more and more of a challenge.
Oriental murals helped add a feng shui touch to the basement training room
That's where the crew from DIY Network's Man Caves came in: Hosts Tony Siragusa and Jason Cameron helped transform John's cluttered basement into a stunning training dojo, complete with a martial arts-theme and a serene, feng shui feel.
The crew used the brick panels as contrast pieces on the basement wall. Easy to install, yet perfectly mimicking the look and texture of weathered brick, it was a great way to bring stability and solidness to the space – all perfectly in keeping with the highly disciplined martial arts mindset.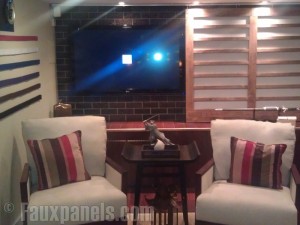 Martial arts-themed decorations and show pieces added a touch of Asian flair and sophistication.
Jason and Tony painted the panels with vivid Oriental motifs; and mounted racks of Samurai swords, Japanese lanterns and black fixtures directly to the panels to complete the dojo theme.
This was where choosing veneer was such a smart choice. Constructed from tough and durable polypropylene, it was easy to trim the panels to size with a regular wood saw, and fit wires and mounting fixtures directly into the wall behind them. The result is truly spectacular; and the mounted fittings blend so seamlessly with the panels that it's difficult to tell that the house wasn't built that way originally.
If you've used our panels for your own basement remodeling, we'd love to see the results. Send your pictures to info@fauxpanels.com