One of our Facebook friends, Sharon Carter, recently wrote:
"I have an A shaped ceiling in my bedroom and a vaulted slant over my dining area that both need something done to them. I wish I had someone in the area that was good with installing these that I could trust."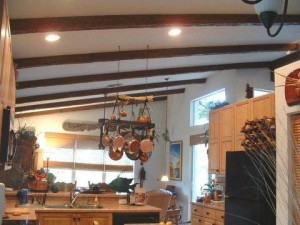 Even those with little or no building experience can install decorative beams in their home.
DIY Installation for Decorative Beams
Well, you can trust yourself, Sharon – and there's no reason you can't install those decorative beams yourself!
In fact, one of the things that sets our artificial wood beams apart from the real thing is that they're so incredibly light and easy to install, making them the perfect solution for DIY home projects like Sharon's. You don't need to have years of carpentry experience to mount the beams correctly. Just by following a few simple guidelines you're practically guaranteed a great result.
Check out our installation guide for a full run-down of what you'd need to do to install decorative beams on your ceiling – but here are some of the basics you should always remember:
Get some tools. Unlike installing real wooden beams, you can install our faux timber beams with the sort of tools almost every homeowner has sitting in their basement or garage. You'll need a tape measure, a regular wood saw and a power drill with screw attachments.
Get some help. One person can easily lift one of our faux wood beams – but because of their length, we definitely recommend having a friend to help with the installation project. The good news is, though, that they don't need to be super strong, or construction veterans. We'd had customers in their seventies who've easily installed the beams in just a day or two – without any prior building experience whatsoever!
Plan ahead. Perhaps the most important step to successfully installing the beams yourself is to plan out exactly what, where and how you intend to install them ahead of time. One tip is to photograph the ceiling you want to install the beams on, print out the picture and "draw" beams onto it with marker, so you get a visual feel for what the finished project will look like.
Measure twice, cut once. The golden rule of carpentry applies to installing faux wood beams as well. Because our beams are made from molded polyurethane foam, you can easily cut them to size with a regular saw – but make sure you know exactly what that size is before you start chopping.
It's all in the details. One of the tricks to getting really amazing results with decorative beams is to pay attention to the details. If you're joining two beams together end-to-end, for example, use our rubber beam straps to cover the join. Likewise, use colored caulk to cover screw heads and other imperfections and once your beams are installed, they'll be practically indistinguishable from the real thing.
If you're really not confident about installing our beams, it's probably best to speak to a contractor or builder – but don't sell yourself short. The beams are specially designed to be easy to install; so there really is no reason why you wouldn't be able to get great-looking results doing it yourself.
If you still have questions, check out FauxWoodBeams.com for tips, tricks and installation guides – and if you haven't already, be sure to "like" our Facebook page. We try to answer every question posted there.