One of the best rules in real estate is to buy the cheapest house in the best neighborhood – but that often comes at a cost.
Ditching Drab Tiles for Stone Veneer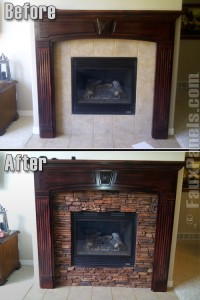 Josh took his fireplace from eighties drab to stone veneer sophistication
For example, while Suzy and Josh got an incredible deal on their 1983 ranch house in Cranbury, New Jersey, they were faced with fittings and fixtures that looked like they'd been there as long as the house had.
"We got a great deal on the house," Josh wrote to us. "The house had belonged to the same owner since new, and when he passed away his kids wanted to get it sold fast."
"But the problem was he hadn't done any modernization at all," Josh writes. "Stepping into the house was like stepping right back to the eighties – tile worktops and white carpeting included."
Josh and Suzy planned to keep their home renovation easy and affordable – with plain white walls and hardwood floors that would appeal to buyers when they sold the house in a few years.
"But we wanted to add at least a few cool details," Josh explains. "Suzy picked out some kitchen counters she really liked, and I decided to do something funky with the fireplace."
The original fireplace was pure eighties – featuring a wooden frame and classic tiling inside.
"It looked horrible," Josh writes. "I wanted something classical and timeless to replace it – but after sourcing prices, I realized stone or brick was way out of my budget – not to mention I would have had to hire a contractor to install it."
"Suzy managed to find an alternative option on your website. We chose a couple of your Norwich Colorado Stacked Stone panels in Sierra Brown and hoped they'd make a good looking replacement."
And the panels didn't disappoint.
"We were blown away when we unpacked them," Josh writes. "They looked just like real stone. Until you touch them, it's impossible to tell they're not the real thing."
And while they looked great, they were also a snap to install.
"I didn't even have to remove the old tiles," Josh writes. "I installed right over them. The toughest thing was measuring the space out right and cutting the stone veneer to fit. I could use a regular wood saw for that, but it was a tight fit and Suzy kept yelling at me: "Don't you cut them too short!""
He didn't, fortunately. "I used construction adhesive to attach them and the job was done in a couple of hours."
As you can see from the before and after photo of the faux stone fireplace, the results are impressive.
"Everybody who visits tells us how great the fireplace looks," Josh admits. "None of them realize it's not real stone."