A couple of weeks ago, we showed you an incredible video from customer Simona Dombrauskaite - Kitchen Remodeling with Faux Timber Beams. After several people emailed us to find out more, we approached Simona to learn how she went about transforming her dining room design with artificial wood beams.
Artificial Wood Beams in Dining Room Design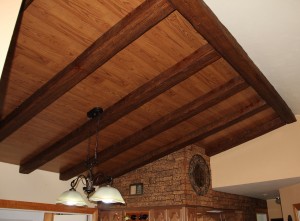 Simona paired the artificial wood beams with wood veneer for a really rustic look.
"Ever since we bought it, we wanted to create a warm cozy and welcoming feeling to our property," writes Simona, enclosing pictures of the completed project. "We wanted to turn it into our home, not just our house."
"My husband brought up the idea for the rustic wood beams on the dining room ceiling, to give it more elegance and character instead of having a plain, boring ceiling. Well, after many searches and few visits to the supply stores, we quickly realized it's impossible to hang up real lumber beams - because they're too heavy and expensive."
"Fortunately, I happened to come across www.fauxwoodbeams.com. What I found there was very reasonably priced – and, more importantly, seemed easy and quick to install."
"We received the order right on time - and the installation was as easy as promised, because the beams are very light to handle! You simply manufacture the best product for our decorative needs."
Now they're up and installed, Simona is thrilled with the result.
"Everyone that visits our home is fascinated by how tasteful and elegant our house has become. It's stunning! None of our guests ever notice that the beams aren't real wood. They can't take their eyes of them - they just keep looking up and staring!"
What sold Simona and her husband on artificial wood beams was how vividly realistic they were.
What was really important for Simona was that her husband liked the artificial wood beams as much as she did.
"My husband is a fine artist, and because of that it wouldn't be easy to convince him to use some poor quality cheesy stuff. He has a demanding vision and mindset, and is extremely picky when it comes to materials in decorating our home."
That's where receiving a free sample in the mail made such a different – convincing Simona's husband that the beams would look authentic.
"That was what ultimately sold us on them," she explains. "Their great, natural look."