Every week, I get to write about how easy our products are to install - but I got to find out just how true that was a couple of weeks ago. See how I built my first mantel shelf with faux wood for my friend Brittany.
Brittany is the incredibly talented person behind the
Chrono Yoga
channel on YouTube, which gives instruction and guidance about yoga to thousands of viewers. Her videos are filmed in her little Yoga Zone, and we thought adding a mantel would give the place just a little bit more character.
The mantel behind Brittany is the perfect addition to the Yoga Zone. "I'm really excited to have this mantel," Brittany explained. "My Yoga Zone is the place that I get to to come to when I'm feeling the stresses of the pressure of life and need a little break from the world around me. Being that zone for me, I wanted to give it out to the world and give the gifts that I was given to the world - which is why I started the Chrona Yoga channel." But one of the challenges Brittany had in using the space to film videos was lighting - there was no natural light in the room, and she needed to use powerful LEDs to light up the space. Our solution to this was to install some hidden, recessed lighting in the mantel prior to installation; to balance out the light and eliminate any weird shadows or dark spots. So, in effect, this was a two stage project - not just installing the mantel, but adding the lights to it too! I started this process off by deciding where we wanted to install the beam. Then, using a stud finder, we identified where to drill holes and mounted a tiny wooden 'shelf' to attach the mantel to.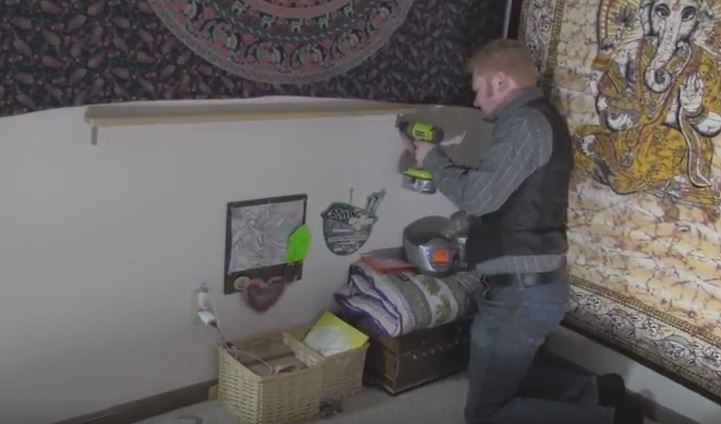 L-brackets and a wooden shelf were used to make a mounting bracket, attached to the wall. At the same time, we attached faux wood corbels to the bottom of the mantel, to make it even more vividly realistic, and then added LED lights from Ikea to the bottom of the mantel.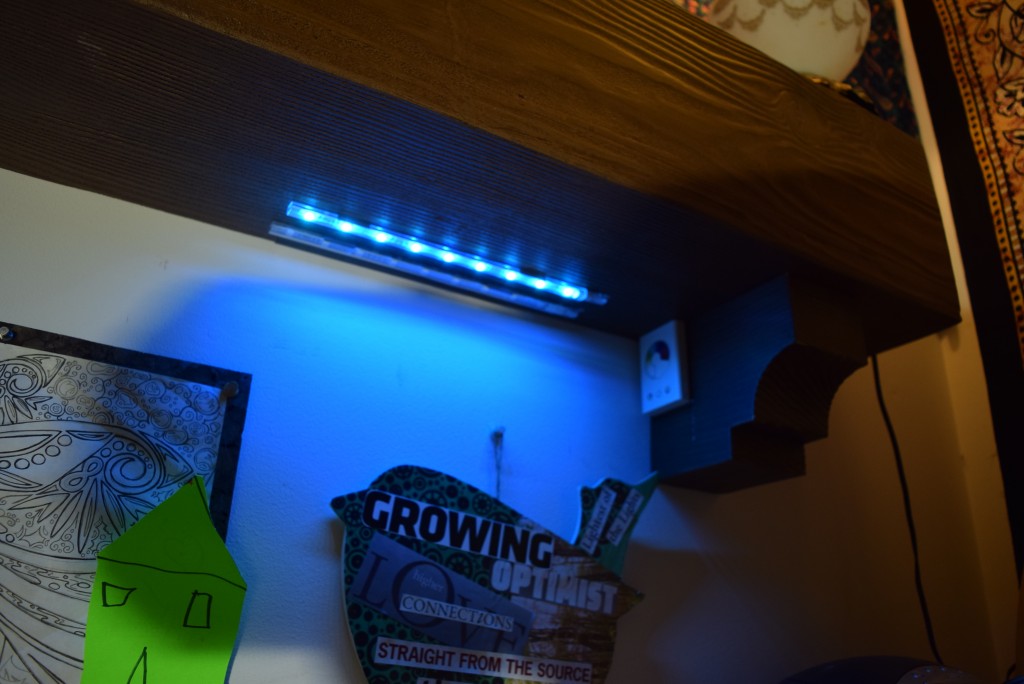 Color-changing LEDs under the mantel can be adjusted with the recessed remote, also shown here. These screwed right onto the bottom with mounting clips, and I was able to drill holes through the beam to seamlessly hide the wires. Once installed, they were invisible from casual view; but could be switched on with a recessed remote I hid underneath.
Brittany can put everything she needs to on the shelf, and change the colors of the lights underneath. Finally finished with installing the lights, the entire beam structure could be lifted up and slotted onto the pre-installed 'shelf' and then secured with regular screws. Once in place, it was secure enough for Brittany to place her lamp and knicknacks on it - and it was absolutely indistinguishable from real wood.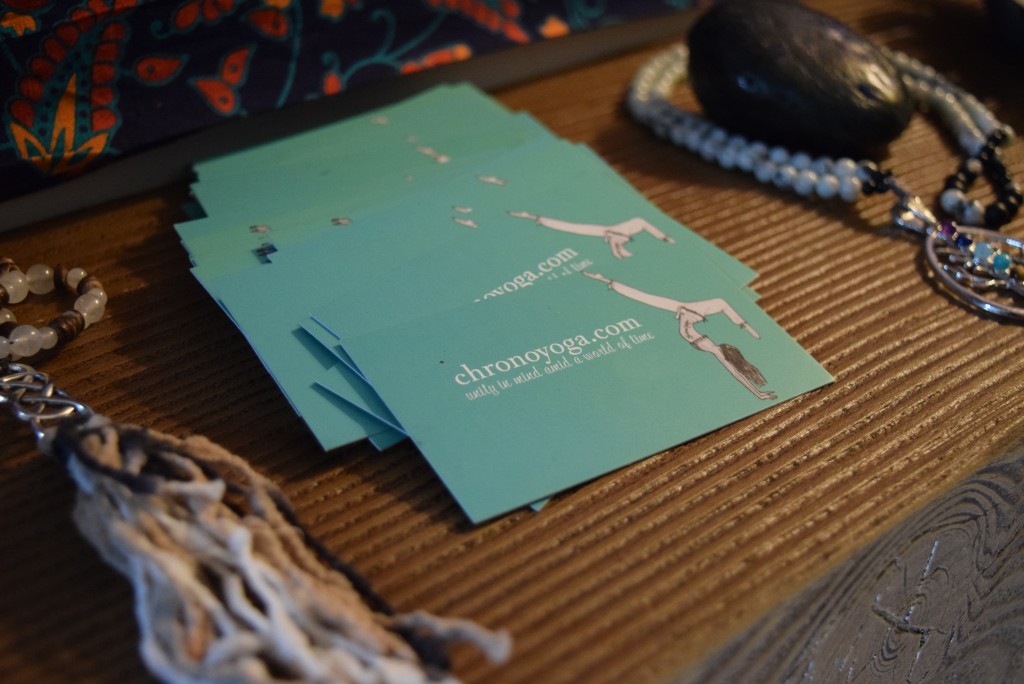 The mantel is a practical and usable shelf - and this close-up demonstrates the vividly realistic texture. The installation took me a couple of hours - and we made a video of it, to show you step-by-step. Check it out below: https://youtu.be/LSm6CpbjgNk