Faux Reclaimed Wood - All The Good Things
Reclaimed wood is one of the hottest design elements going right now. Recreate that look more affordably with faux wood panels.
Even close up, faux reclaimed wood is indistinguishable from the real thing.
Sourced from old palettes, demolished barns and a variety of other places, reclaimed wood is a great way to repurpose an expensive building material. Interior designers are increasingly using reclaimed wood for stunning accent walls and ceiling designs; and it's a look that's sure to remain timeless.
But while this material looks great, it's not easy to work with. For a start, it can be expensive. While it's 'recycled' from other sources, the wood is still fairly costly; and its characteristic aged look can often add a hefty premium.
Compounding that, reclaimed wood is tricky to match.
Once one source of material runs out - say, planks taken from a demolished barn - there's no guarantee that the next source will look even remotely alike. 50+ years of weathering by sun and storms is difficult to replicate!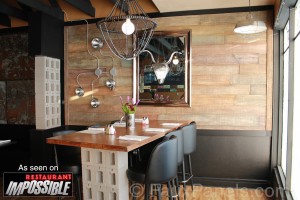 Go faux to create a better-than-the-real-thing accent wall or ceiling.
That's where faux panels come up trumps.
Wellington Reclaimed Barn Board is made from high density polyurethane foam, carefully molded and then painstakingly colored to perfectly resemble real reclaimed wood.
But the best part? Every piece looks consistent, and fits together perfectly. The panels' material is also impervious to moisture and other damaging elements so they won't warp, fade or crack.
Faux wood panels can accomplish the impossible - provide the seemingly-random and weatherbeaten look of reclaimed wood, but with a consistency of fit and finish.
That's why more and more interior decorators are going 'faux' even in places they'd normally use the real thing.
Available at a fraction of the cost, and much easier to install, it's a smarter option that looks not just as good, but often better than the real thing.