We offer faux products that perfectly mimic a variety of materials - wood, stone and brick. Here's a design inspiration specifically for one of those styles: painted wood panels.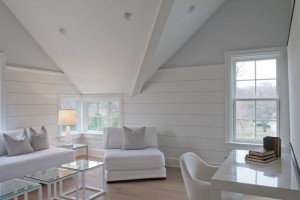 This picture, from www.vbarchitect.com, shows how crisp and clean painted wood can look. One of the benefits of our wood-style products is their versatility. They don't just look like real wood, but they vividly capture its texture as well - right down to every grain, knot and imperfection. The majority of our customers use Woodland or
Reclaimed Barn Board
panels exactly as they come - richly colored to perfectly resemble real wood. However, another option available to interior designers is to paint over the panels with regular emulsion. Why would you cover up that beautiful wood-coloring? Well, you could ask the same of people who paint real wooden boards. Whitewashed wood paneling is actually a very popular design style - especially in the northeastern United States, where it conjours up images of boats, lighthouses and rural nautica.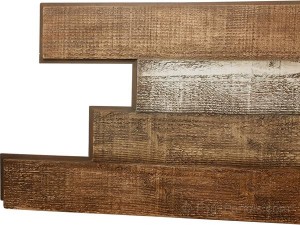 Our vividly textured panels return the look of wood even after you paint them. To get that New England look using our panels, all you need to do is paint them. A regular water-based emulsion in white or blue gives the panels a beautiful look; and their textures ensures they will still vividly resemble real wood. The best part is that, unlike real wood, the panels won't warp, crack or rot - and that means the paint won't peel or discolor. In that regard, you can get a better-than-authentic look by using our panels instead of real wood (and it might even end up cheaper, too.) It's certainly an option; and if decide to try your hand at painting, we'd love to see the results!
Click here
to see all of the wood style panels we have available.