Check out this mouthwatering new restaurant design, made using our false beams and faux stone products from our sister site, FauxPanels.com™.
Delicious Faux Wood and Stone Restaurant Combo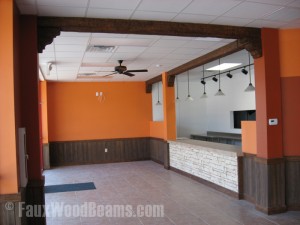 Faux stone panels pair perfectly with our false beam; for an incredibly appetizing decor.
An old chef's saying is: "The first bite is with the eyes." And when it comes to eating out, that's true of the restaurant as well as the food it serves.
Which is why our mouths watered when we received these pictures from David M. from Wilson, North Carolina.
He's finishing off the decor of a brand new restaurant - and while it's not yet ready for business, you can see how great the interior looks. Clean, spacious, warm and stylish - it's an unspoken promise of food that's just as appealing.
Dave writes: "We think that your product is easy to work with and the finished product is amazing." We couldn't agree more - the finished design looks fantastic.
David's design combines our faux wood products with artificial stone and wood panels from our sister site, FauxPanels.com. The front of the serving counter is finished using faux stone panels that make it look like it's actually made from real dry stack stone masonry.
To add a timeless, rustic touch, Dave added waist-high artificial wood skirting around the room, which attached to the wall with regular construction adhesive and screws. Faux wood planks finished the skirting; making it appear totally authentic.
But the highlight has to be the false timber beam Dave installed on the restaurant archway; which he matched with timber corbels to give an authentic appearance. Combined, they're impossible to tell from the real thing and add an incredible detail to the stunning decor.
Paired with warm and appetizing terracotta paint, the finished product looks fantastic - and we can't wait to see more pictures of the project once customers start coming in!