Our Materials are VOC Free
Household pollution is a big issue at the moment, with homeowners on the lookout for zero VOC paints, carpeting, furniture and more. We were glad to clear up one customer's question about our products.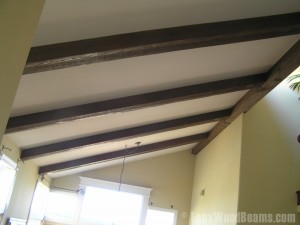 Our beams are made from closed-cell polyurethene, and are therefore VOC free.
After years spent blogging about faux wood beams, sometimes you can't help but be an ambassador for the product - especially at a Labor Day BBQ held by a woman about to redo her home.
She was keen to add a period look to her kitchen, and was seriously considering making her own beams from store-bought wood. I suggested using faux beams instead; and she was delighted and surprised to know products like ours even existed.
But that jubilation quickly turned to concern when she asked: "Do they emit any VOCs?"
VOCs, if you're not familiar with the term, are Volatile Organic Chemicals. They're potentially harmful chemicals emitted by a host of furniture and fittings, including compounds like acetone, benzene, ethylene glycol or formaldehyde.
In comparison, real timber that's been stained, varnished or treated can emit significant amounts of VOCs.
Where do these chemicals come from? It could be from varnish, paint or adhesive - anything used in the construction of the product that breaks down and gets emitted into the atmosphere. It's why your room often has that 'new furniture smell' when you buy a new sofa or chest of drawers, or assemble something from IKEA.
Are VOCs harmful? Well, they're tightly regulated by the government and generally no product supplied to the public will have harmful levels of VOC coming from them. However, this doesn't satisfy a lot of people - who worry that the 'approved' levels are far too high.
Well, if that's a concern of yours, we have some good news. Our high-density polyurethane wood products with a closed cell structure are actually VOC-free. Not only does that make them safe to install in your home, but it also offers another over 'real' wood fixtures. Those are often treated with varnish, paint or stain that sinks into the porous surface and can be emitted as VOCs for weeks or months afterward.
It took me a while to find out this information, but both The Polyurethene Foam Association (PFA) and General Plastics confirm that polyurethane foam doesn't emit VOCs - which was enough to satisfy my Labor Day host.
It's a question I hadn't heard before, but a good one - and we're happy to be able to provide a great answer!