Our beams are available in a variety of incredibly realistic wood colors - but as this project demonstrates, you can also have great success custom staining them yourself!
Gregg Weitzman from New Orleans, recently sent in pictures of his simple, but well-thought-out living room makeover - adding two beautiful Custom Timber beams to the ceiling. But 'simple' is a relative term - as while the installation itself was fairly straightforward, Gregg raised the ante by ordering the two beams 'unfinished' and applying the distinctive dark-wood stain himself.
Gregg's custom stained beams perfectly match the existing wooden features of the room.
The situation was this - the living room already featured a number of stylish wood accents. There was wooden wainscoting across much of the room, plus dark wood trim on both two doors. Gregg wanted to make sure his beams matched those existing wood features perfectly, which is the trick to making sure they look really realistic and congruent in your home.
To achieve that, Gregg checked the many blog posts and articles we've written about how to stain wood beams - and followed those guidelines to perfectly finish the beams as he wanted them. He used a dark wood stain carefully mixed to match the existing wood features, and finished the beams prior to slotting them over mounting beams onto the ceiling itself.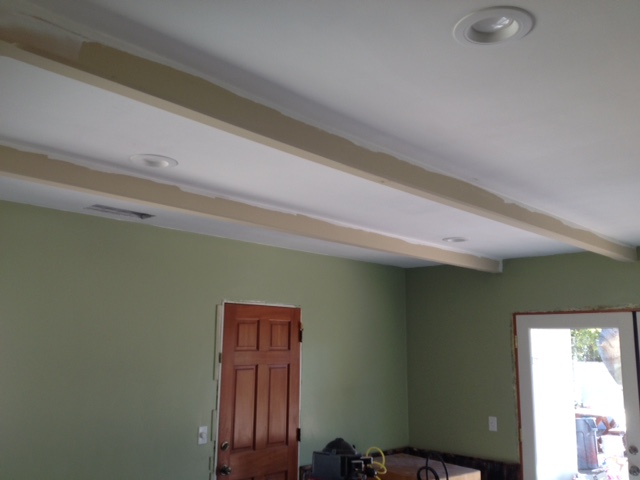 Gregg installed the beams on pre-installed runners across the length of the ceiling.
As you can see from the AFTER picture, the effect is really good - and the installed beams perfectly match the wooden features around the door, not to mention the waist-high paneling. It brings the look of the whole room together, and for Gregg it's certainly a look he feels was best achieved by taking the task of staining the beams into his own hands.
Whether that's something you'd personally embark upon is a question that we can't answer. The great thing about "going faux" is that you have almost limitless opportunity to customize the look of your beams. From picking the realistic texture of the beams - Driftwood, Rough Hewn, Timber or more than a dozen other styles - to the color themselves, the only limit is your imagination. We offer a huge variety of different colors on our pre-finished beams - from light oak to the rich darkness of cherry or walnut - but you can take that color customization as far as you'd like to; right down to painting knots, washing the grain texture, or adding drybrushed highlights to your unfinished products.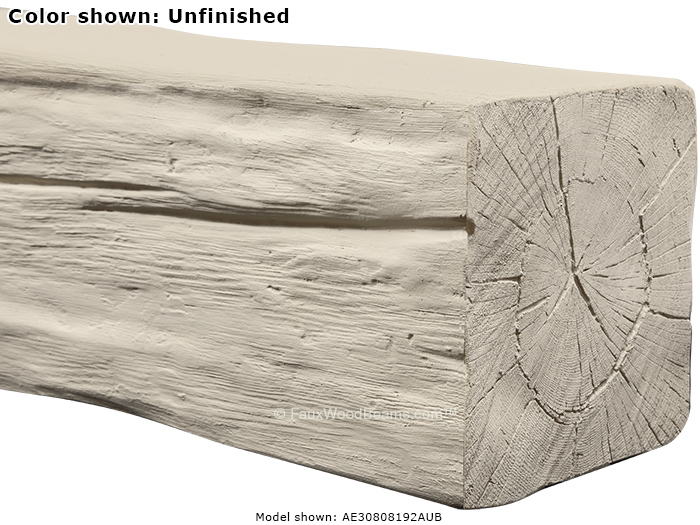 Ordering our beams "unfinished" gives you almost limitless opportunity to customize them.
Pictures like this demonstrate what we love about working with our customers - theirs visions for creating something truly unique, utilizing the products we're so passionate about supplying.