Faux Stone Panels - Design Innovations
POST UPDATE:
At the present time, due to improvements by our raw materials suppliers over the years, none of our existing product lines can be utilized on a curved surface without modifications to the product. There have been cases where our customers have in fact modified our products in order to accomplish this, but we cannot either advise on, nor condone this process, as there are no tests or results as such in relation to the long term effects this modification could have on our Panels. Due to this, any such modifications to accomplish this will also void the warranty on our products.
Several customers have asked about the photos where our faux panels were attached to a curved wall. It's a stunning technique – but not a project that should be undertaken lightly.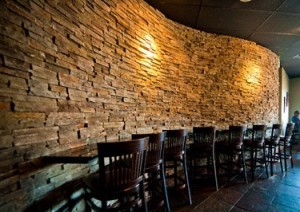 A curved wall is ALWAYS dramatic.
A curved wall design is one of the most dramatic design elements a designer can add to a commercial or residential property. It instantly demonstrates a master level of craftsmanship - the sort of thing you'd only find in high end of homes or the most expensive of hotels.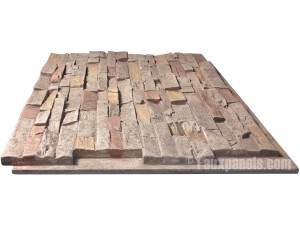 Oxford panels have a slightly different density that allows them to be radiused for installing on a curved wall.
The reason for this is purely practical. To create a curved wall from real stone, you have to literally build it from the bricks up.
To match the curves of a wall, you'll need to custom adjust every single brick before it is added to the wall; which is a time-consuming and expensive process requiring specialized tools and masonry skills.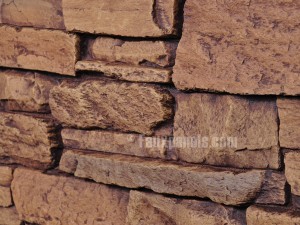 Even close up, our Ledgestone panels perfectly mimic the texture of real stacked stone; making them vividly realistic.
Creating the same look with faux stone or brick panels is easier and less expensive than doing it with the real thing – yet still not an simple task.
The panels are made from molded polyurethane, which makes them a favorite of DIYers. Despite having the look of real stone or brick, they're easy to cut, lift and screw into place.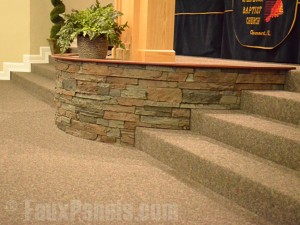 Norwich Dakota Stonewall Canyon Gray
To create a curved wall look, first you have to pick the right panel. Our Oxford panels, which come in a wide variety of styles, textures and colors, have a slightly different density than our other panel lines, enabling you to radius or curve them one inch per linear foot.
While for normal designs our panels are so easy to install that anyone with basic DIY skills can do it, creating a curved wall definitely requires a higher skill level. We don't recommend curving the panels unless the person doing the installation has advanced DIY skills or is a professional who has previously radiused plywood.
Curved walls are framed with radiused plywood. Using the information in our section on installing Oxford panels for both "Basic Installation" and "How to Curve a Wall" the panel can be attached to the plywood backing by first using a construction adhesive.
Next, the panels are screwed into place at both the top and the bottom in tight, one- to two-inch intervals to hold the curve.
Because our products interconnect like jigsaw puzzles, they will create the illusion of a seamless stone wall that looks so vividly realistic your friends won't believe it's not real stone.
Disclaimer: Installing panels on a curved surface with anything other than the Oxford panels is an advanced technique so it's not one we generally recommend. Please call our Customer Service Department for further information if you are considering a project like this to ensure that you order the right panels and have the best information available.
As always, MAKE SURE to observe and obey all safety rules and recommendations set forth by tool manufacturers and local, state, and federal authorities for any building project including all applicable building codes.