If we've said it once, we've said it a thousand times (and it never becomes less true), the success of Barron Designs is really thanks to all of our fantastic customers, who continuously wow us with their home design stories!
Our latest \"proud parent" moment came when Debbie Wensink, from Gooding, Idaho, shared her home's curb appeal makeover - a project she completed with the help of her husband Harlan, their entire family and (naturally) Faux Panels.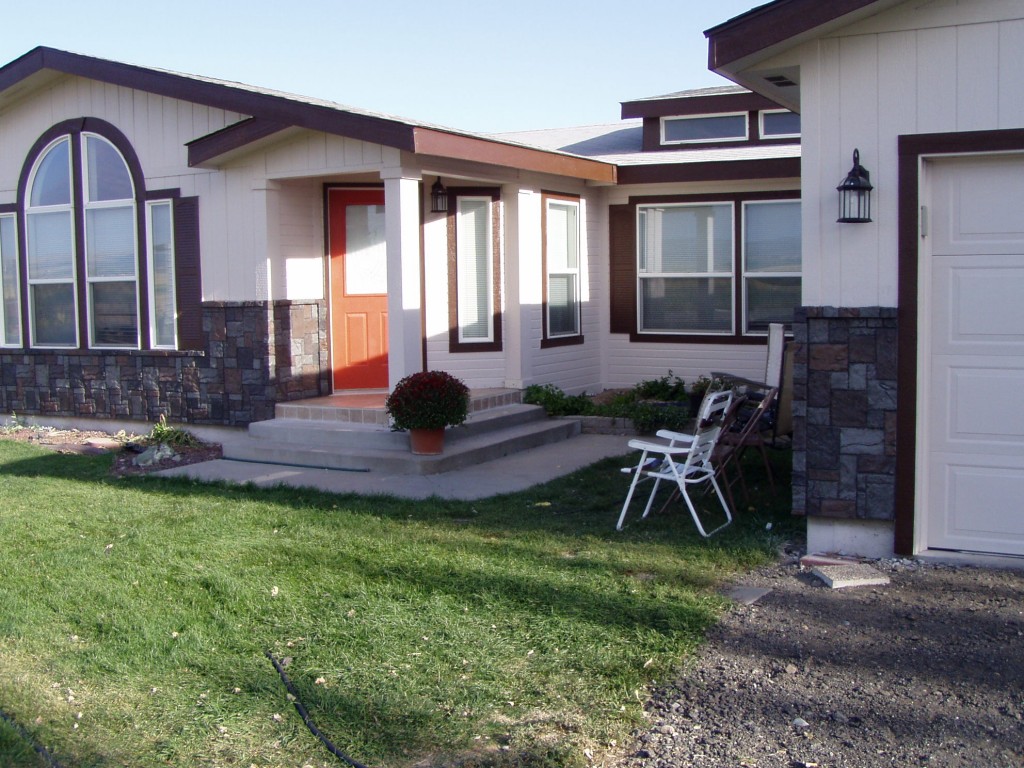 The Beginning
Debbie and Harlan's plans for spicing up the front of their home began percolating when they grew tired of the washed out, bland coat of paint adorning their home's exterior. "Our original plan for the summer of 2010 was to paint the house. [But] we couldn't agree on any color," Debbie says.
While she doesn't remember exactly where the idea of using stone-style paneling originated, Debbie does distinctly recall Googling "faux rock," which fortuitously led her to FauxPanels.com.
Debbie and Harlan purchased a handful of samples in order to work out which style would be the best fit for their project. And here's where the magic began. While Debbie and Harlan had been torn when it came to picking paint colors, deciding the style of stone was no-brainer. "My husband and I agreed on the same three right off the bat. What a miracle in itself!" Debbie says.
A newcomer to the world of faux, Debbie was a little hesitant to click the "buy" button on her large order.
"It was very difficult to 'place the order' as I am a skeptic at heart," Debbie tells us. "Who are these people, what is my product going to look like when I get it, is it going to be junk, am I going to waste my money?! These are things I agonized over for days."
Good thing for Debbie "these people" was us, and the product is something we stand by 1000 per cent.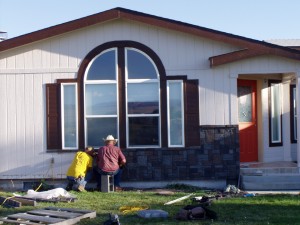 The Middle
Debbie and Harlan's story continues when the panels arrived ("in a very timely manner") and they set to work installing the panels. The couple's two sons—one with his family in tow—arrived on the scene to pitch in.
"It was a whole family affair!" Harlan tells their local newspaper.
Seven days later, the Wensink's took a week off from work to focus on the project, their home looked better than new!
| | |
| --- | --- |
| | |
| Before | After |
The End Product
Debbie and Harlan's renovation included the use of Norwich Carolina Random Rock Panels in Canyon Gray on the bottom third of their home, re-tiling their porch, plus a new coat of paint and general sprucing. The end result gives their home's exterior the much-needed dose of character it craved
Earning Local Fame
The Wensink's home makeover also became a topic of local news when it was profiled as a Do It Yourself success story in their paper, the Times-News.
The Times-News writes, "The rural home has a lot more personality now. Friends and family weren't so sure about how the faux rock would look, but Debbie's son, who works with real rock, approved of the product, saying it looks like stone with a shiny varnish."
Debbie's final word on her home's new look? "This project was exciting and scary at the same time. We are so pleased with the results and I am glad to share my experience with anyone!"
Keep sending us your before and after photos!