Faux Columns for Exhibition Booth
FauxPanels.com and FauxWoodBeams.com both provided materials for this stunningly creative exhibition booth, created for custom RV designer The Newmar Corporation.
Based in Nappanee, Indiana, the Newmar Corporation is legendary among RV enthusiasts. Founded in 1968, the company originated with the mission of building coaches that were "better than anything else on the road." Today they're focused on crafting the finest Class A motor homes the industry had ever seen.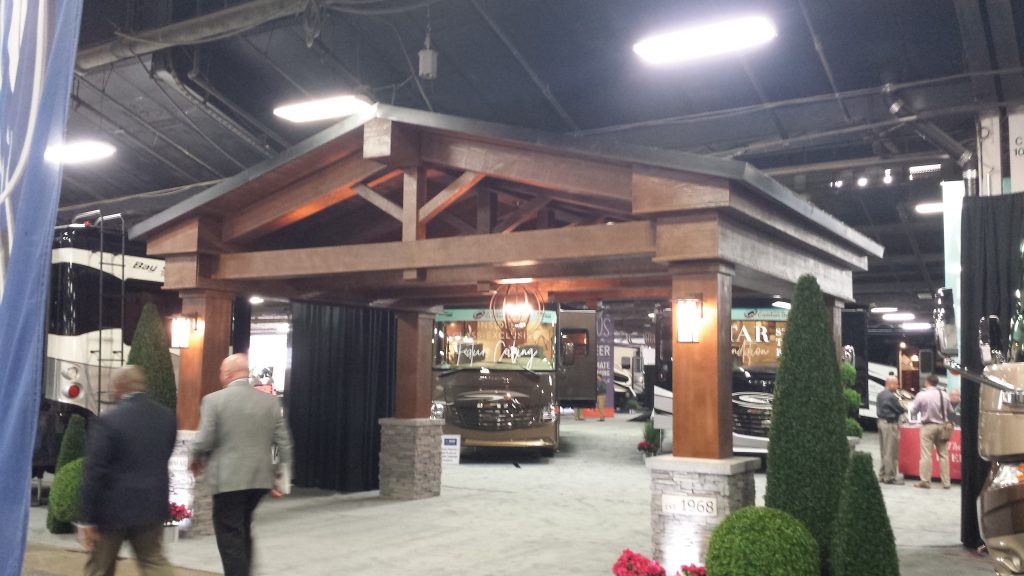 Four faux stone columns serve as the foundation for this creative exhibition booth.
To that end, representatives from the Newmar Corporation attend RV shows all over the country - with The National RV Trade Show top of the list.
A private event held in Louisville, Kentucky every year, the RVIA show is attended by all of the best recreation vehicle manufacturers and their component parts suppliers. In fact, together the show attendees build more than 98 percent of all RVs produced in the U.S.
To stand out from the crowd at RVIA, Senior CAD Coordinator Mike Walter helped design and build a stunning booth made almost entirely out of faux stone and wood products, including beams and planks from FauxWoodBeams.com, and four sturdy-looking columns from FauxPanels.com.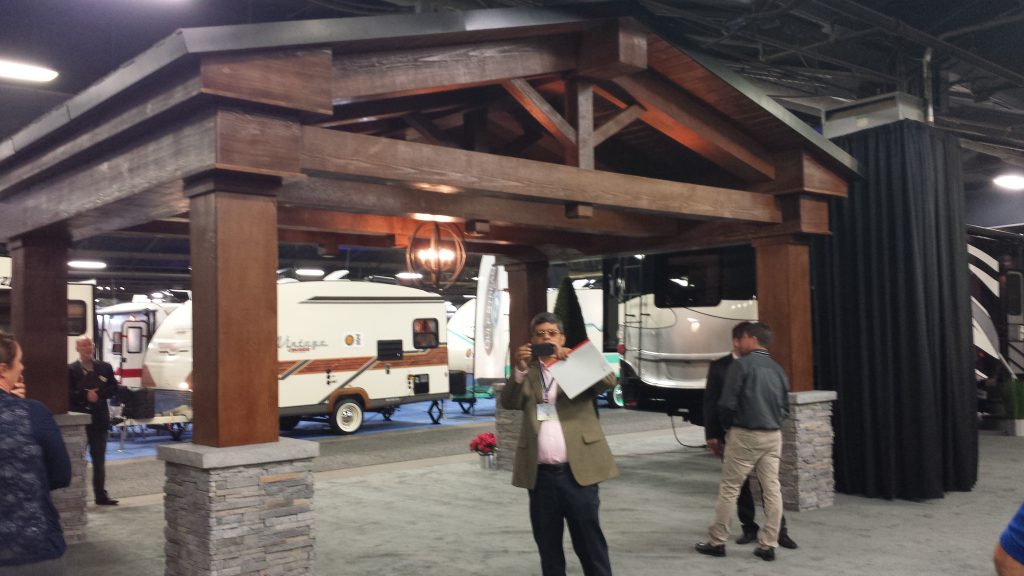 Inside each column is a structural beam made from aluminium.
Mike explains: "We have a full heavy aluminum structure that we started with and then covered everything with the faux wood and the stone columns. All of your faux wood material is held in place with heavy magnets except for the ceiling panels."
In addition to our lightweight and versatile materials, Mike and his team also benefited from the support of our knowledgeable customer support team. They were able to provide valuable information and suggestions about the project; and in the email that accompanied these pictures Mike called out: "Thank you for all of your help along the way."
The columns serve as the design foundation for this booth, wrapping around the aluminum supports so that the only thing show attendees see is a seamless stone facade.
What's truly amazing about this trade show structure is that once the show is done, it can be completely disassembled and packed away. As Mike explains: "The display will be taken down and stored and then used again next year for this show."
"We received numerous comments about how well this display entrance turned out," he admits - and we couldn't be prouder. It's another example of how 'going faux' means you don't need to compromise on looks, but do get to create some amazing and versatile structures that you simply couldn't with authentic wood or stone.