Carol S., from Taneytown, MD, sent us these pics of her recent faux wood beams project. We wanted to feature them here because there's one awesome detail that Carol got perfect with her install; running the beams through existing walls so they resemble real timber beams.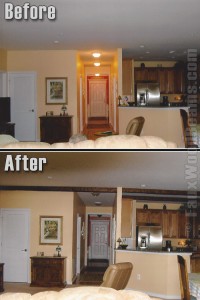 BEFORE and AFTER show what a difference our false beams made to Carol's home.
Creating Realism with False Beams
"I received three Timbers from your company a couple of weeks ago," she emailed, enclosing pictures of her installation. "The Timbers are in place and they look great. I have enclosed pictures before and after - I hope you can use them!"
We certainly can! They demonstrate a great design trick that Carol used to make our false beams look vividly real.
Faux wood beams are designed to resemble the structural beams used in real houses - which run the length of the building. Interior walls were often put up around these beams; actually building the walls around the beams, and making them an intrinsic part of the structure.
With false beams, of course, that's not possible - the interior walls are pre-existing and anything added to the ceiling has to be built around those walls. If you manage to do that, however, you get the opportunity to create a stunning look that perfectly mirrors what a real ceiling beam would look like.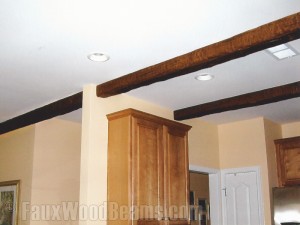 This shot shows how Carol cut her false beams and aligned each end perfectly: making it look like the beam ran through this interior wall in a single piece.
Carol's pictures offer a great example. She carefully measured out the path of the beams she wanted to install and cut them to size with a regular wood saw. That way she could install them seamlessly on both sides of the existing interior walls and partitions - and give the impression that they're all part of a single beam stretching from one side of the house to the other.
"The Timbers arrived very well packed and no damage," Carol recounted the installation process. "A friend and I put them up in a day and a half. We are both seniors. Even senior citizens can do this. As the saying goes 'measure twice and cut once'. We took our time and had no problems."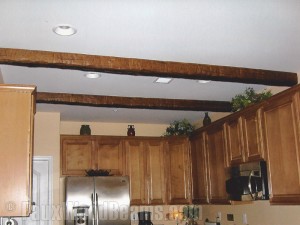 As a result, Carol's beams look vividly realistic - like real structural beams from an old home.
And the results? Don't just take our word for it that they're great. The photos prove the same, and Carol also writes: "I live in a retirement community so my house is not huge. The Timbers bring warmth to my living area and kitchen. These Timbers are not just for big houses. My neighbors and family think my house is unique with this good decorating choice!"
We think Carol did a wonderful job installing her beams around the existing walls of her home. If you've done something similar, we'd love to see pictures of it. Email them to us at info@fauxwoodbeams.com.