Have you ever noticed that those great home makeovers you see on TV never seem quite so simple to do yourself? It doesn't matter how many walls you paint, sofas you reupholster or cushions you throw about – your efforts never quite live up to what you see on screen.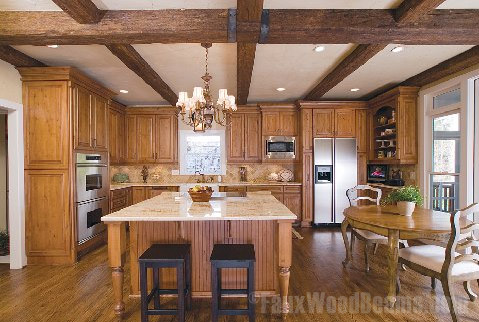 That's because those top TV interior designers keep a few tricks up their sleeves to work their onscreen magic – and here's one of the best: Look up.
Look up, because your ceiling holds the key to one of their most effective design secrets. In fact, just a few changes to that commonly overlooked (or is that under looked) part of your room have the power to transform your living space.
The irony is that most people's ceilings never get much more than a fresh coat of paint during a home remodel – and by ignoring their roof, most homeowners ignore the opportunity to transform their room.
Ceiling Beam Choices: Real or Faux?
One great way to add a new dimension to your room is to create an exposed beam ceiling. A classic architectural feature, wooden beams give your room a lofty, rustic feel and can make your room feel longer and broader.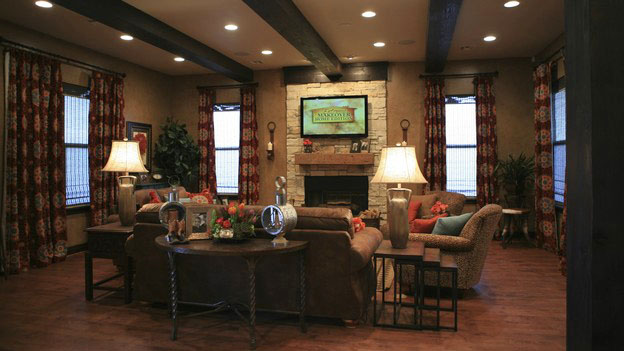 For those living in older homes, exposing existing beams is a fairly simple affair. You'll need to pull down the plasterboard or beams covering them up and invest in new plasterboard.
And even those living in more modern homes can benefit from the design details wooden beams will add. Obviously, you won't be able to expose existing beams if your ceiling doesn't have them – but you can always add your own.
Depending on the style and décor of your house, adding beams to your ceiling could be nothing short of an interior design inspiration. Give your design plan some serious thought before hand; and if you think they make a match, you have two options:
The first are real wood beams: For the purist, these might seem like the way to go. The benefit, of course, is complete authenticity. The downsides, however, include not just the cost, but also installation safety issues. Solid beams are very heavy, and will need to be anchored properly. This is the sort of thing most people should leave to a professional carpenter.
Your second, more practical option could be the use of faux beams. These hollow, wood-style beams are created specifically for mimicking the exposed beam, without the installation headaches.
If you decide to go faux, there are two options. The most popular choice is polyurethane beams, which are lightweight, cost-effective and highly realistic looking. Alternatively, we also offer hollow style beams which are made of real virgin cedar wood, but designed to look like reclaimed barn board.
There are more advantages – not just regarding cost. The use of faux beams also opens up a broader choice of color and style and the ability to match other wooden fixtures – which isn't such an easy task when using the real thing.
See for Yourself
Our customers over the years have generously shared many pictures of their projects using both types of beams. We encourage you to take a look for yourself on our photo galleries for those using the real wood box beams and the polyurethane beams.
They're a great source of inspiration - and even better, the pictures are accompanied by design tips and tricks you won't find on those home improvement shows.