Reclaimed Wood Beams - Ceiling Designs
The latest additions to our line of products are Real Wood Box Beams. Available in three distinctive wood texture styles, and offered in three-sided and four-sided options, they can be used to create a particularly gorgeous ceiling design. Made of virgin wood, they are each painstakingly faux finished to match the color, texture, and character of real vintage barn wood as closely as possible.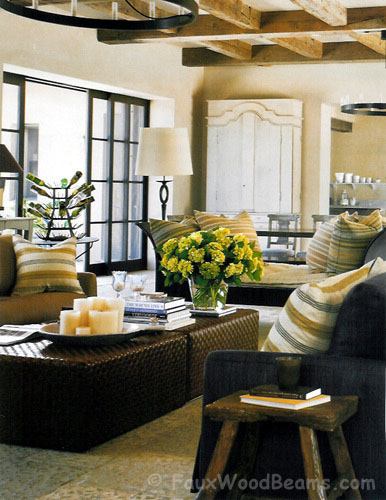 Adding real wood box beams to living room ceilings creates a dramatic new look.
From a distance and up close, it's impossible to believe they aren't authentic reclaimed wood that's over 150 years old. Even more, the wood does exactly what real barn wood does in different environmental conditions.
Through a mineral-based wood treatment that acts as a reactive stain, the wood responds to moisture just like antique barn wood does. When they get wet, they darken in tone. And when they dry, their color gradually lightens. The result is a beautiful, weathered color that lends a truly rustic charm to any design.
| | |
| --- | --- |
| The Heavy Hand Hewn texture has the beautiful, weathered look of real reclaimed barn wood. | The Barn Board Beams in Rustic Natural color are indistinguishable from authentic reclaimed wood. |
The advantage of virgin wood over reclaimed wood is that it won't crack, warp, twist or check. No insects will be found inside them either.
In addition to the aesthetic and environmental benefits of these box beams, they also have structural benefits not present in reclaimed beams.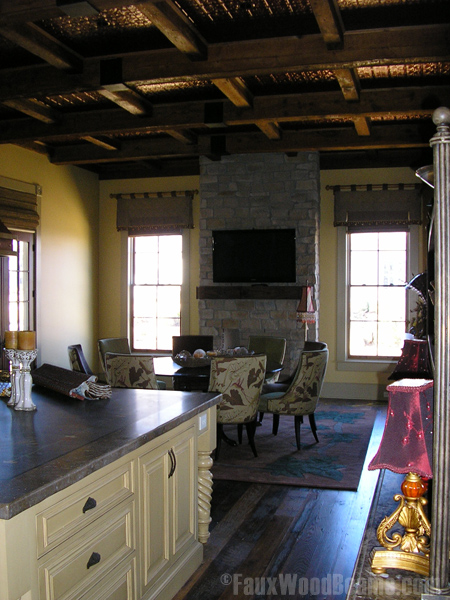 Real Wood Ceiling Beams bring a comforting elegance to living spaces.
First, their widths are consistent from end to end. This makes it easy to cover things like I-beams and pipes.
| | |
| --- | --- |
| The three-sided Barn Board Beams have a consistent width, making it easy to cover existing pipes and I-beams. | The Heavy Hand Hewn texture has the old-world look of antique barn wood. |
Secondly, these beams are available in lengths that won't be found with real reclaimed timber, due to the high demand for longer lengths. 24 feet is currently the longest length we offer, which expands design possibilities for larger ceilings.
| | |
| --- | --- |
| The Heavy Hand Hewn Real Wood beams have the rugged look of vintage barn wood. | Wire Brushed Beams have a subtly pronounced grain texture that is perfect for kitchen ceilings. |
Thirdly, the beams' consistent sizes makes it easy to use them for building truss designs like these.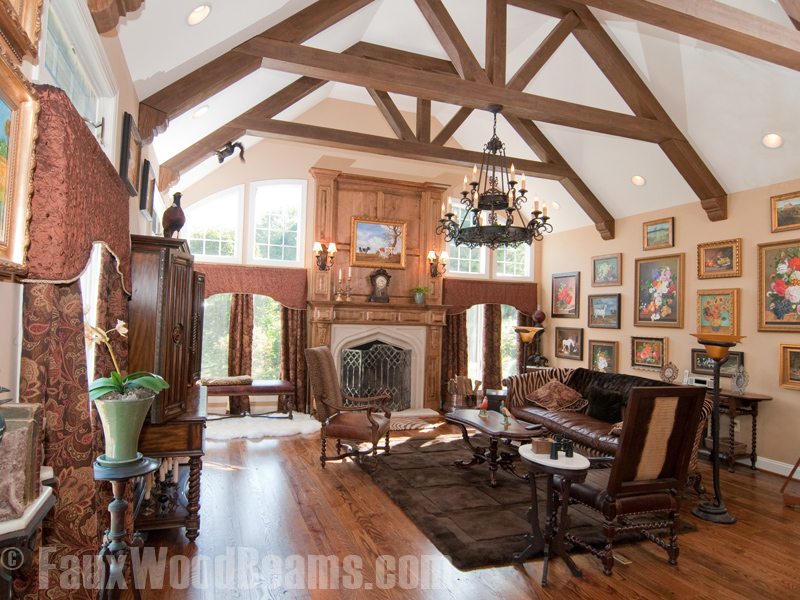 Real wood box beams can be used to build beautiful truss designs like this one, made with our Raised Grain faux wood beams.
For designs where the ends of the beams will be exposed, end caps are also available.
Extremely lightweight and easily installed, these ceiling beams will give the décor of any space a remarkable new look. From kitchens, dining rooms, porches, dens and more, they are the ideal design element for creating the rustic charm you're looking for.
| | |
| --- | --- |
| Wire Brushed Beams have a soft texture with smooth grain lines for added elegance. | Heavy Hand Hewn real wood box beams have the old world look of vintage barn beams. |
The beams are offered in these three texture:
The Barn Board style has a lightly distressed texture, with the natural grain lines and notches of vintage barn wood.
Wire Brushed has a smooth appearance with a subtle texture of gently raised lines.
Heavy Hand Hewn
has the highly distressed texture of wood that's cut and shaped with a cutting instrument such as a chisel or an ax.
| | |
| --- | --- |
| The Heavy Hand Hewn texture of the real wood beams adds a rustic touch to your designs. | Real Wood Barn Board Beams are fabulous design elements. |