Faux Colums - Great Design Sense within Budget
Get an iconic Americana look without the heavy cost of masonry.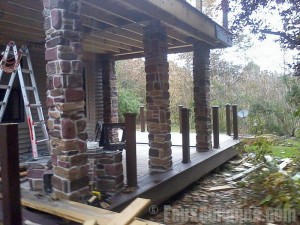 Craftsman style porch with Ashford River Rock columns in Calico
The "American Craftsman" period of home design is one of the most iconic in American architectural history. From the late 19th century through to about 1930, middle class homeowners across the nation adopted a style of home design that focused on handicraft, the use of local materials and a focus on elegance through simplicity.
The result is the 'Craftsman' style home - each one unique, but sharing design details that make them one of the most sought-after and copied styles of home in the world.
Today, with the explosion of modular home technology and cookie-cutter building techniques, our homes are less 'craftsman' style than ever - but a lot of homeowners are deciding to make their houses stand out by adding craftsman style touches to them. Our faux columns are a fantastic tool to do this - as they can provide the materials for craftsman-style columns and posts, but cost a fraction of what real stone or brick would.

This driveway got a nice design upgrade with stacked stone pillars added to the garage overhang.
In a real craftsman home, columns and posts are structural, and laid by hand with real stone and brick.
Ours are installed directly onto a wooden frame, and provide the look and texture of real stone or brick, but without the masonary or material costs.
In fact, even an amateur designer can create amazing looking columns using these products, using just regular tools like a wood saw, and equipped with only basic carpentry skills.

Pair our columns with faux panels for a complete home transformation
And, because the columns are painstakingly molded from real brick and stone, the end results are practically indistinguishable from the authentic article.
Take a look in our gallery here for more pictures of homes given the 'craftsman' style look with faux columns.