Living Room Remodelling with Faux Beams
FauxWoodBeams.com customer James Stavinga killed two birds with one stone, using Woodland Beams in Oak.
The finished project looks great, with no seams in sight.
James' living room in his Washington home was nice enough, but he thought it could do with a facelift. Added to that, the sheetrock ceiling showed seams where the sheets joined that he just couldn't seem to cover up.
Or, at least, that was until he discovered fauxwoodbeams.com.
He ordered Woodland beams with two very specific objectives in mind - to add some style to the drab ceiling, while simultaneously covering up the ugly seams. The result was a cross-work of beams that looked stunningly realistic, and helped solve the seam problem.
"Everyone enjoys the transformation that the beams made," James wrote. "It was a very easy installation, with a great product!"
James' transformation is noteworthy for two reasons.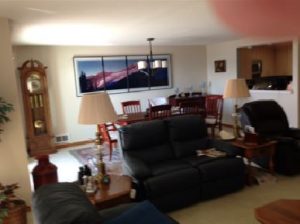 BEFORE: You can see how drab the roof looked previously.
Firstly, he created a matrix of beams rather than just running them parallel to each other. A large beam is intersected by opposing beams, in a very realistic pattern similar to how authentic supporting beams would look.
Secondly, James added a beam in the archway leading into the living room - again, tying the whole thing together and making the beams look even more realistic.
To achieve all this required some pre-planning, and basic carpentry skills. Fortunately, the beams can be cut and shaped using regular woodworking equipment - and are light enough to install with just one or two people helping out.
We think the end result looks terrific - and we're thrilled to be able to share it here!