Artificial beams don't just look amazing – they can be used to help cover up nagging design issues. Check out how one of our customers used Sandblasted beams to help perfect his new house's sloped ceiling.
Concealing Seams with Artificial Beams
Ken's sheetrock ceiling had ugly seams he just couldn't seem to cover up
"The main room of our year-old house measures 17 feet square," wrote Ken Broker, sending us pictures of the recent project he'd worked on in the front room of his new home.
"It has a sloped ceiling that rises from nine feet at its lowest to an apex of more than 13 feet."
"The problem was that this ceiling's side-to-side sheetrock seams seemed impossible to hide across the long expanse. Impossible, that is, until I discovered FauxWoodBeams.com."
"I ordered 4 Sandblasted beams – each one 19 feet long. The six-inch square dimensions were just right for my high ceiling."
So far, so simple; but Ken had one obstacle to overcome:
"I'd ordered a sample before buying," he wrote, "and it was clear that the regular walnut color would not match our wood floor. That's why, when I bought the four beams, I ordered them unfinished."
The problem was how to stain the beams so they'd perfectly match the rest of the wood in his main room. Ken approached this challenge methodically:
"I cut the unneeded 18 inches from several of the beams and used them to try various different approaches to getting the desired match. Lauren and Tina from FauxWoodBeams.com gave me lots of patient help during this stage - most valuable in giving me confidence!"
"It took five or six tries, each needing a day to dry, before I finally succeeded. I got the results I needed using a cherry gel wood stain in a one coat spread, applied moderately heavily with a cheap sponge brush and without wiping. It set the grain up perfectly."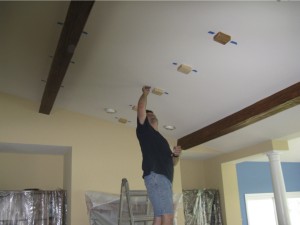 Ken used wooden blocks to mount his beams
"Next, I hired a carpenter and his scaffolding and laser beam to help me install the beams," Ken wrote. "Because of the near 17-foot span and studs spaced every 24 inches, we had to use eight separate wooden mounting blocks and 3.5 inch screws for each beam. The good news is that we were able to measure for a very tight fit and built a large miter box to keep the cut straight."
Installation was where the advantages of faux wood really revealed themselves. The beams Ken had ordered look practically indistinguishable from the real thing – especially after the incredible job he did staining them – but are made from polyurethane, for incredible lightness and flexibility.
The result was a product much easier to work with than real wood. "There was no splintering," Ken wrote, "and so no touch-up staining was needed on the edges." After installation, "I touched the screw heads with a dab of gel stain and they simply disappeared into the rest of the wood texture."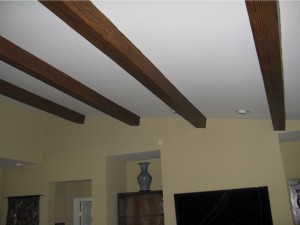 The results are amazing - and seamlessly disguise the existing sheetrock seams
The installation was not without challenges; but they were manageable.
"Raising the beams without scratching the wall was a bit challenging. We also needed a third person to support the middle of the long beam with an extended mop handle when we held them up, so we could use 2.5 inch finishing screws to fasten the beams to the blocks."
And the results?
"We love them! The beams add warmth and character and even some sound control to the space."
And, even better than that, they seamlessly cover up the seams between Ken's towering ceiling sheet rock – achieving his initial goal in a breathtakingly stylish and original way.