What do you do with leftover sections of a brick panel? One of our employees had a great idea for a very cool kitchen backsplash - check it out!
AFTER: The finished product; combining our brick panels with a length of faux wood beam.
Cool Kitchen Backsplash Using Leftover Panels
As anybody who's done some home improvement knows, it's better to order a little too much of your building material, rather than wind up a little bit too short.
That's why when FauxPanels.com™ employee George and his brother-in-law Ted ordered some of our brick panels to use in building theater scenery, they ordered just a little bit more than they thought they'd ultimately need.
When they ended up with a section of leftover Oxford panels, George and his son Jay had a creative idea about what to do with it - use it to fix up George's lackluster kitchen.
"The area behind my Stove was very "Blah"!" George explained, with pictures of "before" and "after" he and Jay got busy with the leftover materials. "After doing some theatre scenery, my brother-in-law had some leftover sections of brick panel and a beam we had given him, so my son Jay and I came up with an idea on how to brighten up the area by using the brick to create a backsplash, and using the beam piece as a shelf."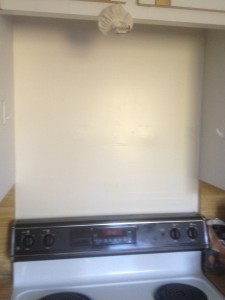 BEFORE: George was the first to admit: "The area behind my Stove was very "Blah"!"
Our panels are molded from durable, waterproof polyurethane, making them perfect kitchen material. In addition to providing the vividly realistic look of authentic brick, the panels are also available with a fire-rated option to protect against the heat of an open range oven.
Even better, the panels can be cut to size with a regular wood saw - and attach directly to the existing drywall with construction adhesive and screws - making it incredibly simple for even a Do-It-Yourselfer to get the look of real brick in their home with just a few hours work.
"Jay cut and installed the project in a little over half an hour, and it gave the whole area a nice 'rustic home' look," George writes. "Not a bad idea if a customer has a leftover panel or a piece of a beam since the area behind a 'Standard Range' is 30" wide."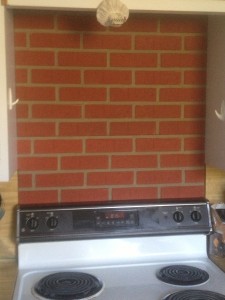 DURING: The Oxford Panel was trimmed to fit
Topping off the backsplash, Jay and George also used a length of beam from our sister company, FauxWoodBeams.com™, as a shelf behind the stove. Made from the same tough and durable polyurethane foam, the beam looks almost indistinguishable from real wood; yet installed directly onto the panels with a block of wood to mount it on and regular screws. It's even completely usable - perfect for storing spices, cooking utensils and other kitchen essentials.
Given that the effective cost of this kitchen project was zero dollars, since the materials had already been bought for another design project, the finished results are nothing short of inspirational. What do you think? Let us know in the comments section below.