A convenience store in South Dakota got a serious makeover with Custom Resawn Beams in Burnt Mocha.
Chances are, you might have stopped at a Coffee Cup Fuel Stop. Known for their great prices, clean stores and friendly service, they're the perfect place to refuel both your car, and yourself.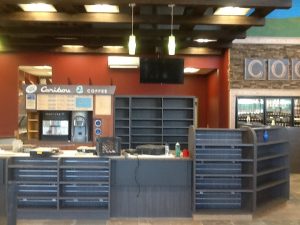 Welcome to Caribou Coffee
If you've ever hit Route 18 in Hot Springs, South Dakota, you might have have even stopped in to refuel at one of their most recently-revamped stores. The Hot Springs location just underwent a partial redesign that incorporated, among other things, a series of our Custom Resawn Beams.
Even close-up, the beams are incredibly realistic.
The beams were placed above the Caribou Coffee counter, forming an intricate truss that gives the booth a rustic, frontier feel. They look incredibly realistic; and for the hundreds of customers who stop by for a hot cup of Joe each day, there's probably an assumption that the beams are made from authentic, solid timber.
But, in fact, these beautiful beams are actually faux - molded from lightweight and durable polyurethane foam. That makes them light enough to suspend safely above Caribou Coffee; and the extensive truss design cost a fraction of what real timber would have done.
What makes the design work is how the beams are assembled together. Because the beams are lightweight and easy to cut with a regular wood saw, it's straightforward to cut them into pieces to assemble into a truss. The separate pieces can be joined together with wood screws and connecting blocks; and those connecting pieces are seamlessly hidden inside the hollow beams.
It took vision, imagination and careful measurement to create the truss; but nothing that is beyond the realms of any competent carpenter - and, as you can see from the pictures, the end results look fantastic.
What do you think? Suitable decor for a frontier-themed coffee stop? Let us know your thoughts in the comments section below.