A space-saving customer sent us some awesome pictures of his small, but perfectly formed kitchen project.
A Compact Kitchen Project
Don's kitchen creation packs a lot of utility into a small space.
Customer Don McTavish from Wasau, Wisconsin had a challenge on his hands:
How could he add some style and sophistication to a super-compact kitchen?
His answer was a couple of our Wellington Dry Stack Earth Panels.
Don had expertly managed to cram everything a cook could need into an astonishingly small space - an oven, microwave, fridge and drinks cabinet, plus the kitchen sink - all in a single wall of beautiful black cabinets.
But while the utility is impressive, it needed something just a little bit extra to give it a stylish look to match the ingenious design.
That's where our faux panels came into their own.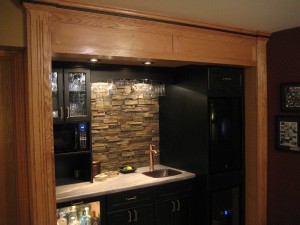 Dry Stack panels give the impression that the kitchen is part of a real, hand-laid stacked stone wall.
Don expertly used our panels as a combination backsplash and wall feature - adding a vivid texture to the kitchen that is simple, yet effortlessly stylish.
The dry stack is incredibly realistic; and gives the impression that the kitchen unit is built flush against a real stacked stone wall.
But while the look is dramatic, installing the panels wasn't.
One of the reasons Don chose our panels was because they were easy to cut to shape with a regular wood saw - and could be installed directly to the wall with construction adhesive.
Although the results look like they're exposing part of a hand-crafted stone wall, the entire project actually took just hours to install (and at a fraction of the cost of using real stacked stone.)
And just because it was more affordable and easier to install than real stone, it doesn't mean that Don's new design isn't as practical.
Because our panels are molded from durable polyurethane, they're totally waterproof and resistant to cracking, warping and rot - making them ideal for use as a backsplash.
So the result? Seamlessly stylish, affordable and practical. Don certainly thinks so:
In the email he sent accompanying these photos, he wrote: "The panels look great, your product is very easy to work with - and I've already received lots of positive comments. Thank you!"
Glad to hear it, Don!
If you've used our faux stone products for a similar project, we'd love to see pictures of them. Email them to us at info@fauxpanels.com. Maybe we'll even feature them here!