The Bow Street Irish Pub - A Sensational Design
This Irish Pub at the MetLife stadium gets a classic bar design with faux stacked stone panels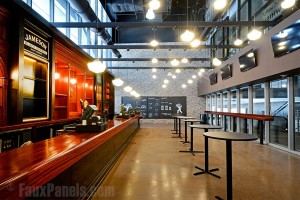 The Bow Street Irish Pub looks like it could exist right in the heart of downtown Manhattan.
New York City may be a melting pot, but it's heart is always Irish. That's why there are as many Irish pubs in the five boroughs as in Boston, and you don't have to look far to find a shot of Jamesons or an ice-cold pint of Guiness.
One pub of note is the new Bow Street Irish Pub, located in the heart of the MetLife stadium in East Rutherford, NJ. Home to the New York Yets and the New York Giants, the MetLife Stadium is both the most expensive stadium ever built, and the largest in the NFL - with seating for over 82,000 people.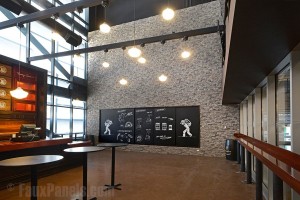 Stacked Stone panels cover one entire wall - and perfectly match the wood and period decor.
A place of pride among the concession stands and restaurants is Bow Street - which looks like it's straight from the heart of Lower Manhattan with the help of faux stone.
The interior wall of the pub are covered with our Stacked Stone panels - which perfectly match the authentic wooden bar and whiskey barrel motif. As a result, despite being in the center of one of the world's most prestigious stadiums, it's easy to lose yourself in period Irish charm as you enjoy a pint of stout.
Even up close, the panels are vividly realistic.
All things considered, it shouldn't be much of a surprise that the designers of the Bow Street Pub chose to 'go faux' rather than use the real thing. Authentic stone or brick would have been outrageously expensive; not to mention difficult to install and wildly impractical in a state-of-the-art facility designed to utilize the latest in design technology.
Instead, our the panels were installed directly onto the existing frame walls with nothing more than construction adhesive and screws. And, once installed, they're indistinguishable from real stacked stone - vividly realistic even if you get right up close (which, on game days, is something everybody experiences.)
Subtle, understated and incredibly effective, the Bow Street Irish Pub demonstrates why faux panels are increasingly popular with commercial designers. We can't wait to see where they'll turn up next!