There are few FauxWoodBeams.com customers as enthusiastic as Lynne. She's sent in pictures of her triumphant cathedral ceiling remodel, because she's excited about starting the next one!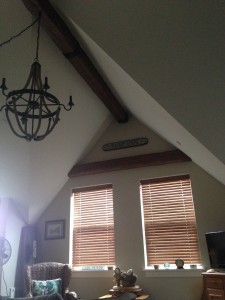 Lynne's ceiling remodel complete
"I've attached a number of photos of my last project," Lynne wrote, "I had a very unusual great room, with a very high cathedral ceiling and three gable ends in the same room. I installed a beam the full length of the ridge - using one of your beam straps to cover the seam - and in each of the three gables."
A 'gable' is the apex of a cathedral roof - where in times past roofers would have to install a structural beam to support the weight. With modern building products that's no longer necessary; but it's still a great look to have if you want to add a little classic style to your room.
Lynne studied the way in which traditional builders would frame the room, and chose to install our beams in positions that would emulate real exposed beams.
In this case, it was at the gable ends of the ceiling, and as a central beam that ran along the highest point.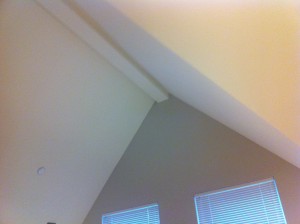 This was Lynne's original ceiling - with an apex line perfect for installing a beam.
This posed three challenges for Lynne. First off was making the gable end beams fit seamlessly against the angled roof. Fortunately, our beams are made from lightweight polyurethane, which can easily be cut to size with a regular wood saw. All she needed to do was measure the angles and make the appropriate cuts with a circular saw.
The beam across the ridge of the ceiling was a different challenge. While our beams are available in a number of lengths, the ones that Lynne had ordered did not stretch across the entire length of her ceiling. Therefore, she needed to use two to span that gap.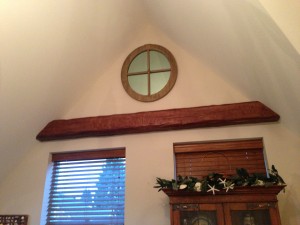 Lynne cut the cross-beams to the proper size and angles with a regular wood saw.
The problem? That left an obvious seam where one beam met the other. And her solution? Using one of our rubber beam straps. These perfectly resemble the cast iron bracings that were once used to support traditional timber beams, but much easier to install.
The strap covered up the seam perfectly, and even added a cool old-style element to the finished ceiling.
"It looked AMAZING," Lynne writes. Everyone loved it, and no one could believe that they were not real wood. I sold my house a little over a year ago, and I swear one reason it sold so fast was because the beams looked so awesome!"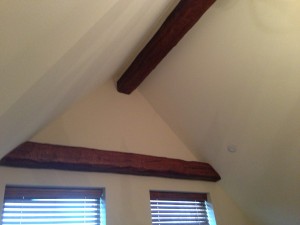 Two beams were needed to cover the entire length of the ceiling ridge. A faux iron strap was used to cover the joint for a seamless look.
Now Lynne's in a new home, she's already ordered the parts for her new project.
"Well, here I am in a new house, and my living room has a cathedral ceiling once again! I cannot wait to have another beam installed here!"
What really made Lynne's message gratifying was that not only did she use our products triumphantly in her past home, but she also looked at alternative options before going with FauxWoodBeams.com again.
"I looked at the beams at Home Depot," she admits, "and there is simply no comparison - so even though their shipping was free, I just have to buy from you again!"
We're excited to have you as a repeat customer!