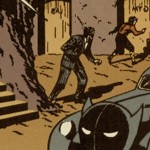 Batman's Secret Lair
It was Batman who created the original "man cave" during his comic-book adventures in the 1940s. A subterranean lair, deep beneath stately Wayne Manor, it was where Batman could solve crimes, tinker with the Batmobile and, on a Sunday night, watch the big game with Superman, Aquaman and The Flash.
Today, you don't have to wear tights to build your own cave. In fact, an increasing number of homeowners have set aside a corner of the house – most commonly the basement – to be a "male only" space; where husbands can slink away to play poker with their buddies. CNN even published an article suggesting that a man cave is an essential ingredient to a happy marriage:
"Separate time is important," says marriage counselor Steve Brody, a clinical psychologist from Cambria, California. "A good relationship has both intimacy and independence. Man caves may just be the 21st-century wrinkle to it."
But creating a unique design is a challenge – one in which stone veneer can prove invaluable.
Building Your Own Man Cave
Going Caveman
"Part of the appeal of a man cave," said Pat, a homeowner we spoke to, "is that it's a uniquely masculine space. There aren't any throw pillows, china ornaments or frilly curtains – none of the stuff my wife insists on having in the rest of the house."
"My man cave is in the basement," he explained, "so the first thing I wanted to do was give it a real 'cave like' atmosphere. Stone veneer panels were perfect for that."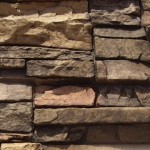 Regency Stacked Stone
This is why Pat chose to line one entire wall of his man cave with Regency Stacked Stone panels, in realistic Earth tone. It gave appearance of rough, hand-stacked stone and instantly delivered an evocative, subterranean atmosphere.
"The great part was that I could install them myself," Pat explained. "In fact, it took me just a day to put the panels up, and I could even cut them to shape myself with tools I already had in the garage." He installed them with nothing more than a combination of construction glue and strategically located screws – and less than a day later, had transformed his boring basement into an authentic looking "manturary" any self-respecting caveman would be proud to call home.
Pub Life
Another man caver, David, moved to America from Great Britain about fifteen years ago. When he set about transforming the basement of his split-level ranch into a man cave he had a different set-up in mind.
"I wanted to recreate the look and feel of the old pubs I went to when I was younger," he explained. "After all, our basement mostly gets used when my friends come over to drink beer and watch sports."
To that end, David created a stylish wooden bar from scratch, and added shelves, a dart board and even a kegerator tap to pour fresh, foaming beer straight from the barrel.
To complete the look of the classic English pub, David chose to line the walls in a mixture of dark red brick and rustic barnwood panels.
"Most of the pubs in London were built in the Victorian days," David explained, "you have a lot of red brick and dark, aged wood." He used the wood panels to complete the bar area and the brick to give his plasterboard walls the appearance of aged London brickwork.
Brick panel
Again, the panels made installation easy:
"Although I did get my friends to help," David admitted. "After all, some of them are over my place so often, it's almost as much for their benefit as mine." The only time they swapped the veneer panels for the real thing was a section of hardwood surrounding the obligatory dart board – while the panels are made of hardy polyurethane, David was the first to admit he didn't want to poke holes in them.
"And after a few pints, my aim isn't all that good."
In both Pat and David's examples, the strategic use of brick, stone (or wood) panels helped them create an undeniably masculine man cave within a very short time frame – and with a budget that's just a fraction of what it would have taken with real brick and stonework.