One thing we're always being asked is how to make wood trusses with our faux ceiling beams. The good news is that building them is affordable and easy – and the results can look incredible.
Building Wood Trusses with Faux Beams
Wood trusses can add truly astonishing visual impact to a room.
Trusses are a common feature of old buildings; especially period churches and cathedrals, which were the modern skyscrapers of their day.
These structural frames supported towering roofs; allowing huge open-plan rooms to be constructed without pillars or columns getting in the way.
In the modern age, the need for wood trusses has largely been eliminated. A single metal girder can often support a roof that several solid timber beams once held up.
Yet the look of a wooden truss is still striking and desirable; which is why we've seen many of our customers build their own using our faux timber beams.
Choosing faux wood to build a truss makes a lot of sense. Our ceiling beams are made from hollow, high-density polyurethane – weighing a fraction of what solid timber beams would.
This means a regular ceiling can support their weight without reinforcement or support; which would be essential to safely use real timber to create a decorative truss.
Faux ceiling beams can also be cut to size simply and easily with a regular wood saw – and attach to the ceiling, or each other, with mounting blocks and regular screws.
In fact, it's that which makes them so ideal for building a truss with. Check out our guide to installing a truss and you'll see how steel cable, trim head screws and eyebolts can quickly and easily be used to assemble visually stunning creations.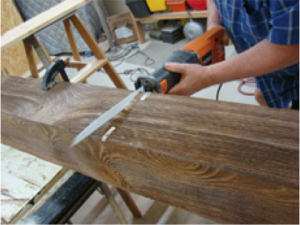 With faux wood beams, cutting components to size requires only a regular wood saw - and accurate measurements!
The trick is pre-planning. Think hard about the truss design and pencil it out to work out exactly how it will go together, and what faux wood materials you'll need.
This is an area in which a contractor might be useful; but many of our customers have sent in astonishing truss pictures featuring designs they created entirely by themselves.
Our truss design system page will give you a lot of inspiration – it includes a slide show featuring a number of common truss designs inspired by real life ceiling structures.
You can make your design as complicated as you want, but many of our customers tell us the key to a really successful truss is simplicity.
Faux wood trusses are intended to mimic real-life structural beams; which were once built for strength and practicality; not for what looked good.
If you're considering adding a truss to your ceiling, let us know how it goes. We'd love to see pictures and share any tips or tricks you have on the Faux Wood Workshop. Email them to us at info@fauxwoodbeams.com.