Build a Fireplace from Scratch
Building a fireplace from scratch turned out easier than it sounds for Maryn who used one of our Custom Timber mantels and faux panels to get the job done.
Forget the flatscreen - most of my realtor friends argue that the focal point for any room will always be the fireplace. A source of light, warmth and comfort, families still gather "around the hearth" like they've done for centuries...
...but what if your house doesn't have a fireplace?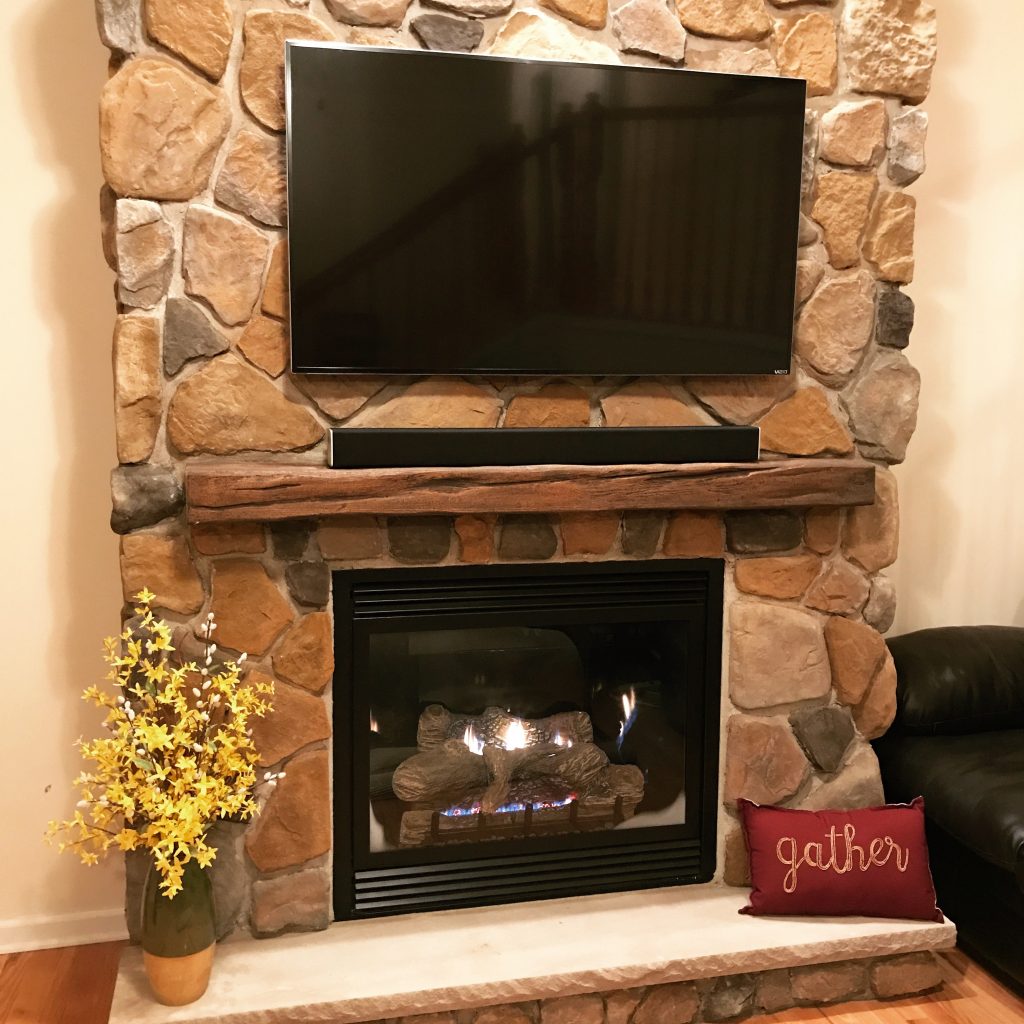 That's the dilemma faced by Maryland-based customer Maryn, who felt that her beautiful living room needed a little extra coziness - and set her heart on creating a fireplace to meet that need.
Building the fireplace itself was a lot more straightforward than you might think. She framed one out, and covered it in realistic-looking faux stone, as countless customers have done using products from our sister sight, FauxPanels.com. An electric fireplace filled the space where an old hearth would have been - and since there wasn't a need for a functional chimney, Maryn installed her room's flatscreen TV on the space above the fireplace.
So far, so good - right?
Well, once the fireplace was built, Maryn instantly felt like it was missing something - and it wasn't difficult to guess what. On most fireplaces, a wood mantel hangs above the hearth, and it's where families used to keep their kettle and other fireplace paraphernalia.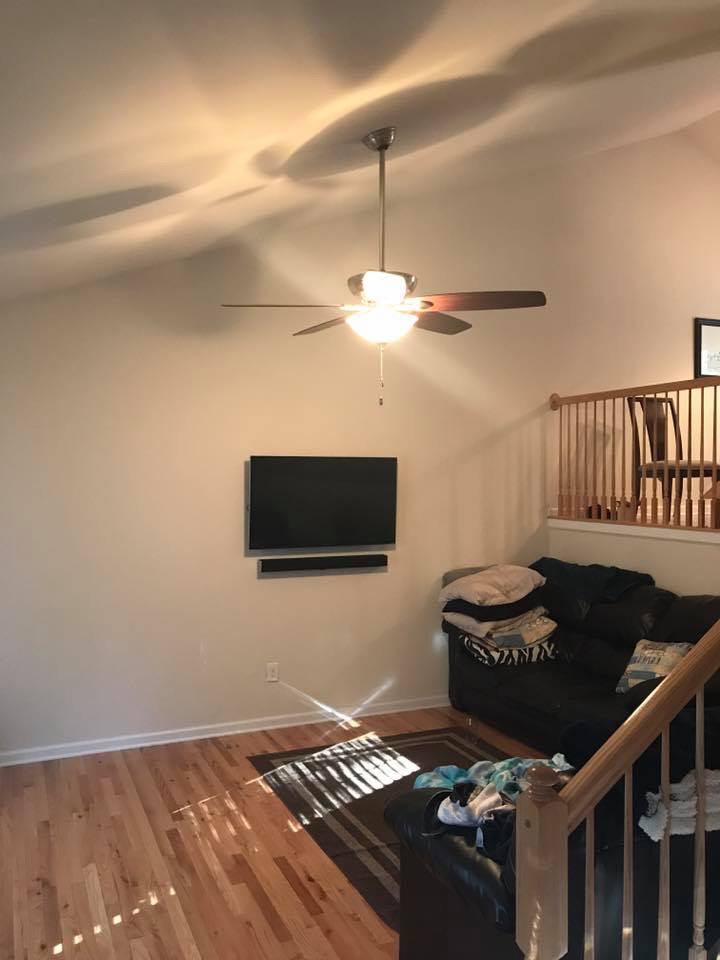 BEFORE: Maryn's living room look stark and empty before the fireplace was completed.
In a modern home, a mantel is used more often for pictures, vases and ornaments - but is still no less an essential part of a fireplace; and something that it just wouldn't look right without.
That's the problem which faced Maryn - and it's why she reached out to us at FauxWoodBeams.com.
You see, one of the drawbacks of making a 'faux' fireplace and chimney is that the wooden framing wouldn't have supported the weight of a real mantel - not to mention, it would have been extremely expensive and inconvenient to install. But as Maryn had learned from the faux stone she'd used for the surround, sometimes there are synthetic alternatives that look just as good as the real thing.
Made using molds taken from authentic lengths of aged timber, our faux mantels are made from injection-molded polyurethane foam; which vividly captures every knot, grain and imperfection in incredible detail. Once finished in a choice of realistic wood color, they are practically impossible to tell from the real thing - except they weigh and cost a fraction of the real wood versions.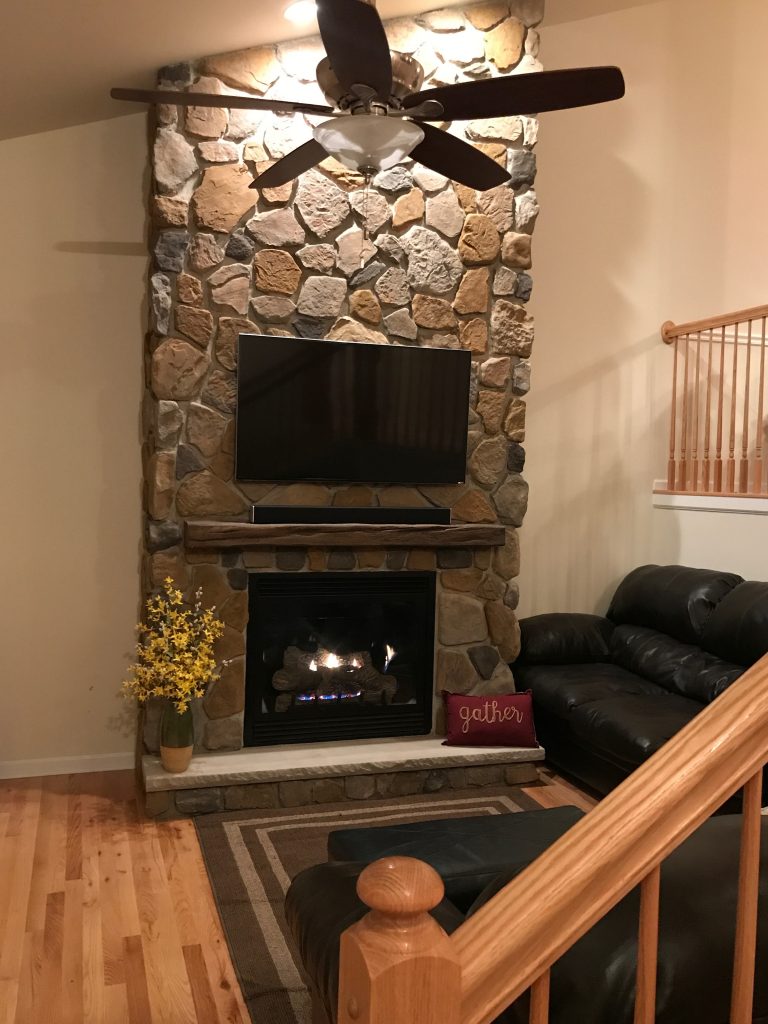 This shot shows what a difference the fireplace made to the feel of Maryn's living room.
And that makes installation easy. In Maryn's case, she drilled mounting blocks into the fireplace frame - drilling right through the panels to secure them. One the mounting blocks were installed, the mantel was slotted over and secured with screws. It's a process that takes very little time - and once installed, our mantels are also functional; able to support reasonably-weighted objects like pictures, vases and ornaments.
As you can see from the before and after pictures, the mantel really completed the look of Maryn's fireplace; and now it's a truly eye-catching feature of the room.
We love this project and think Maryn executed it perfectly - but what do you think? Let us know in the comments section below.