Back in June, we showcased a bold commercial design using our products. Here's the finished project!
Finished Brothers Store Interior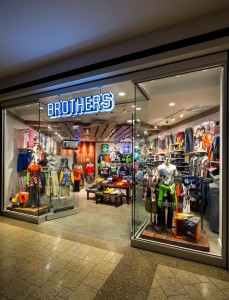 Our faux wood products are a fixture in shop fronts and commercial displays all across the country - because they're affordable, easy to install and look amazing. This past June we showcased how the Brothers store - retailers of stylish casual apparel - were installing faux beams in their shop front; and now have even more pictures to share with you.
As we mentioned last time, the way the store's designers had used our products so effectively was in creating something bold and new using our beams and planks.
While our beams are an inspired choice for recreating a historical look in home or buildings; the ceiling design in the Brothers store manages to be thoroughly modern - which perfectly matches the bold, colorful designs of their preppy clothing.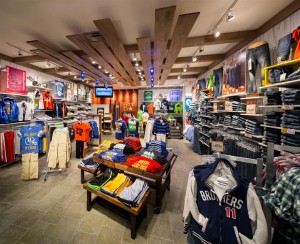 A framework of beams was intersected by planks for a rustic, unfinished appearance.
Brothers used our beams to frame the ceiling. Then, planks were added in asymmetrical strips across the length of the store; adding a rustic, unfinished look that tied in nicely with the All-American theme and product range of the Brothers store.
It was a design that could have been built using real wood beams and planks - as the weight and scale is actually quite manageable.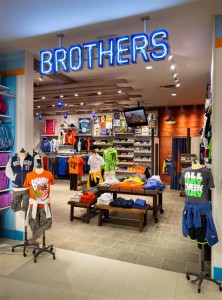 However, going faux meant spending a fraction of the amount that real wood would have cost; and enabled the entire design to be built and installed by a smaller crew of contractors with no special equipment beyond a regular wood saw and screw gun.
And, even better, going faux still resulted in an amazing finished product. The beams and planks look vividly realistic - every bit as rustic as real wood, and utterly impossible to tell apart from authentic timber once installed.
We're hugely impressed with the result. What do you think?