A couple of weeks ago we wrote about a stunning ceiling design created using our Custom Aspen Faux Wood Beams. Now another restaurant in this chain has created an incredible Italian interior using our synthetic wood products.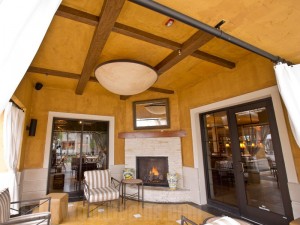 The foyer of Brio pairs our faux wood beams with a warm and welcoming palette of colors.
Brio in Texas Gets Faux-Wood Fabulous
Texas isn't known for its Italian food - but restaurant chain Brio is putting an end to that. Their new location, in the hip city of Austin, is bringing a bit of Tuscany flavor to the Lone Star State.
And because of the old Italian chef's proverb "the first bite is with the eyes," they're doing it in style; creating an incredible Italian-inspired interior using our Custom Woodland beams.
Molded from tough, yet lightweight polyurethane foam, our false beams are almost indistinguishable from the real timber ceiling beams you'd see in eateries in the Italian countryside. The only difference? That they were installed in just a few hours; and at the fraction of the price of using real wood.
Brio's ceiling design was carefully planned to mirror the authentic structural roofing of centuries-old Italian buildings; the difference being that these beams would be purely decorative; rather than a load-bearing part of the building itself.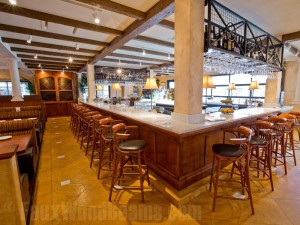 Warm, welcoming and classically Italian, the Interior boats a faux wood ceiling that is understated; yet elegant.
The interior designers used two sizes of our faux wood beams, and connected them in a grid that resembled the thicker, structural beams of an old European building, criss-crossed with the smaller beams, which supported the floorboards of the story overhead.
That was an easy look to achieve, because our beams can be cut to shape with nothing more than a regular wood saw. To achieve that style of ceiling design, we recommend installing the longer, thicker beam (the 'structural beam') as a single piece, from one end of the room to another, and then connecting the smaller beam sections, cutting each to size beforehand.
Just remember the golden rule - "measure twice, cut once." Once the smaller beams are in place against the larger one, you can cover up any gaps between them with colored caulk and voila! The joint between them will be seamless.
So what do you make of Brio's interior? Are you a fan? And what do you make of it in comparison to the other Brio location, completed using Custom Aspen Beams? They're both very different design styles; but perfectly capture the rustic charm and easy, family-friendly appeal of a classic Italian eatery.