Our faux brick panels were featured in the awesome new pilot for TLC's upcoming hit show Bakery Boss.
Buddy Valastro is going to be helping struggling bakeries get back on their feet in TLC's new show, Bakery Boss.
Bringing Back a Bakery with Faux Brick
What Buddy Valastro doesn't know about running a successful bakery isn't worth knowing - that's why he's the star of TLC's hit reality show, Cake Boss.
But in TLC's series, Bakery Boss, it's other people's failing businesses Buddy will be focusing his years of experience on; helping them turn their struggling bakeries around and follow the same path to success that made Buddy so famous.
Right now, casting is taking place for this new show - but the pilot episode has already been shot; and was an instant hit with fans and critics alike. It chronicled Buddy's visit to The Friendly Bake Shop, in Frankfort, NY - a struggling family-run bakery desperately in need of guidance.
As part of Buddy's efforts to help reverse the fortunes of this ailing business, he gave their crumbling store a complete makeover - and products from FauxPanels.com were pride of place! Our Nailon Brick Siding helped give the illusion of classic, old-style brick in the made-over storefront; without the expense or difficulty of exposing or installing real brickwork.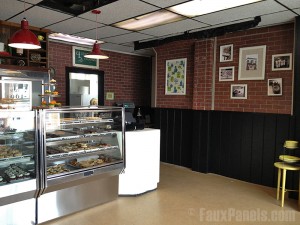 Nailon Brick Siding created an amazing touch for the Friendly Bake Shop's interior design.
Our products were perfect for Buddy's plans - as in Bakery Boss he's under a tight deadline and facing a limited budget in order to transform each struggling business. Compared to the cost of using real brick, our panels are just a fraction of the price - and they install right onto the existing walls using screws and adhesive; so they take just hours to install.
And as you can see from the video below (check out the 2:22 mark) the finished results are amazing. They perfectly capture the old-time look and feel you'd want from an authentic Italian Bakery; and play an important role in helping The Friendly Bake Shop get back on its feet.
Check out our sister site FauxWoodBeams.com's contribution to Bakery Boss on their blog at
//www.fauxwoodbeams.com/blog/friendly-bake-shop-faux-wood-facelift