We got a great email from a customer in Maryland we wanted to share.
Faux River Rock Transforms a Boring Wall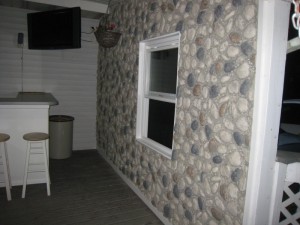 River rock faux panels made Dave's bar look amazing.
"I had a very boring white side wall under my covered bar on my pool deck," writes FauxPanels.com customer Dave B., from Maryland.
He sent pictures to prove it - a bare expanse of sheetrock covered with rivets and seams.
Finally tired of the drab walls ruining his awesome covered pool bar, Dave did something about it:
"I ordered and easily installed your River Rock panels in gray."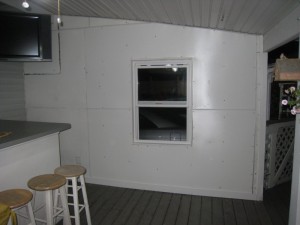 BEFORE: Dave's wall needed some serious attention. It was drab and uninspiring.
Designed from molds made using authentic river rock walls - complete with the smooth, distinctive rocks and textured mortar - our synthetic faux panels were exactly what Dave was looking for to brighten up his wall; and matched the decor of his outside pool perfectly.
"It looks so real!" He writes. "Now that wall is the highlight of my pool deck bar."
Dave's project was a great demonstration of the versatility of faux stone panels. "In two evenings, I completed the project," he writes, "using a regular wood saw to cut the panels to fit around the existing window, and then attached them to the sheetrock with construction adhesive and screws."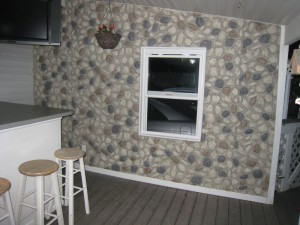 Using faux panels was an inexpensive way to get a great look to an outdoor bar; and will resist even inclement weather for decades to come.
The pictures demonstrate just what a difference the installation made; and Dave is overjoyed at how easy it was to get an awesome finish.
"You cannot find the seams in the panels," he boasts - the result of the seamlessly interlocking panels which perfectly match up to one another when installing. " Everyone says it looks great!"
"We love the way it turned out and we're so glad we ordered the faux panels."
We love the result of Dave's project. If you've got a similar story to tell - and the pictures to prove it - we'd love to know. Email them to us at info@fauxpanels.com and we might even feature them here! We can't wait to see them!