Al fresco dining is a rarity in New York City - but one innovative new eatery delivers it in style thanks to our white brick veneer siding panels.
Chic Yet Affordable Brick Veneer Siding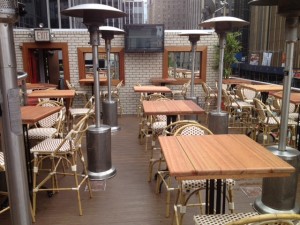 Dining at Local is a true Al Fresco experience.
You'll never go hungry in New York - whether your tastes (and budget) extend to a 99¢ hot dog, or a $295 hamburger.
But while great food isn't rare - a great place to enjoy it is sometimes harder to find.
One of the nicest spots in midtown is the recently renovated Local - a rooftop eatery in 1 Penn Plaza that offers a mouthwatering range of burgers, salads and cocktails - plus some of the best views in Manhattan to enjoy them with.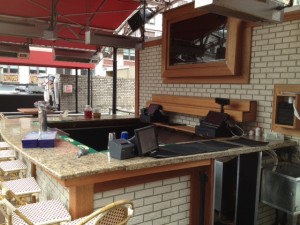 The outdoor bar and counters are vividly rendered in our beautiful faux brick panels.
Local went for a clean, classic al fresco experience with their outdoor dining terrace - and used our Nailon White Brick veneer siding to turn that vision into a reality.
Molded from tough and durable polypropylene, the panels vividly mimic the texture of real period brickwork, which means the rooftop blends in perfectly to a section of Manhattan dominated by art deco skyscrapers and towering brick buildings.
The faux panels look awesome, while the rooftop heaters make this deck comfortable all year round.
Using brick veneer siding panels for the commercial refit turned out to be a great idea for Local.
In addition to costing a fraction of what real brick would, it was also infinitely easier to install.
In fact, to install Nailon siding you use exactly the same technique as you would for regular vinyl siding.
It takes just hours to finish a whole wall - and the finished product looks amazing.
Our nailon white brick siding helped make this incredible renovation happen on deadline, and within budget.
Judge for yourself - these pictures of the newly renovated Local show just what a great new design they chose. The fact that the rooftop garden is buzzing with activity every night also shows that this eatery got the design recipe as right as that of the rest of their menu items.
If you're in Manhattan, be sure to check them out - they're on the corner of 33rd and 8th Avenue. And if you know of another restaurant or bar that's used our faux panels as successfully as Local did, we'd love to know about it. Send us an email to info@fauxpanels.com.