Last week, we introduced Chuck C., of Gladwyne, Pa., and the amazing makeover of a large hallway in his home that he finished. Well; that was just the start. As you'll discover in our next few blog posts, Chuck actually transformed his entire home.
Sitting Room Ceiling Makeover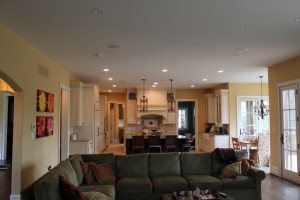 BEFORE: A wide expanse of ceiling needed a focal point.
The next room on Chuck's DIY home improvement list was the sitting room – which he framed with elegant beams.
Just like with the corridor, Chuck's first step was to design a framework similar to how real wooden beams would have been used in home construction – but then a new challenge presented itself when he tried to install them.
While installing faux beams is a straightforward affair – and can be accomplished in just a few hours with nothing more specialized than a wood saw, screws and an electric drill – Chuck's problem was the sheer size of his room.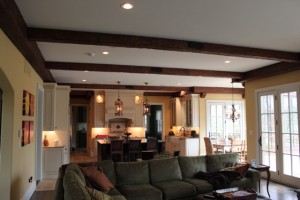 AFTER: The results are impressive; and the corbels and rubber beam straps help complete the illusion.
In order to have the beams spanning the ceiling as planned, he'd have to stick two or more beams end-to-end.
The good news is that our beams are designed to do exactly that – and, unlike real timber, are perfectly proportioned to give a seamless appearance. The bad news is that Chuck had a tell-tale crack where the two beams joined; which he was worried revealed them as fake.
Fortunately, the solution was to be found at the same place Chuck had found our beams. Designed especially to cover up where two beams join, our rubber beam straps look just like the iron straps that once held together real wood beams – except these ones are lightweight, flexible and easy to install.
Chuck used the straps to join each length of beam together – giving the impression of a single piece of wood running from one end of the ceiling to the other.
The next clever trick he pulled was adding accenting corbels. Corbels are structural supports common in older homes that feature real wooden beams. Chuck bought some of our faux corbels and installed them at strategic points to give the seamless impression of real timber framework.
As you can see from the before and after pictures, Chuck's simple and understated project looks amazing; and the final details like our beam straps and corbels helped seal the deal.
We have more pictures from Chuck's home coming up – but if you've got a DIY home improvement project using our products that you think rivals his, don't wait – email pictures to us at info@fauxwoodbeams.com and we'll take a look.