Our panels typically are installed on walls and exteriors - but that's not the only way to use them! Recently Joe K. from Ontario sent in pictures of the stunning faux stone planters he made using Nailon Stone Wall Desert Sunset Panels.
Faux Stone Planters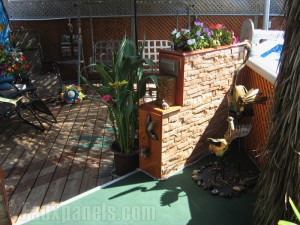 Joe's planter wall was finished using our Nailon siding.
"Here are some pictures of what we did with the panels," Joe wrote, enclosing pictures. "We made box planters and divider wall coming right out from the house. Everyone thinks it's amazing."
Although Joe is clearly handy with his tools, even he commented on how easy our molded polypropylene panels were to work with:
"Working with this materials was a breeze. I used a jig saw with a fine tooth blade and it makes easy cuts that didn't get away on you. We also never used glue or nails or screws to hold panels together - all the panels are attached with stainless steel springs."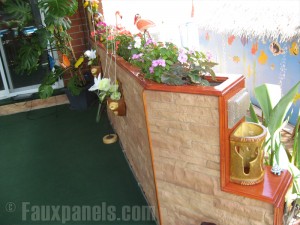 Our Nailon siding installs just like regular siding, though Joe chose a different method involving spring clips for his DIY project.
"Since the walls are only a foot thick I used one spring on the inside and connected it to the outside wall so they can flex all they want in any weather."
The planters and wall are made from a wooden frame - the panels were added afterward. But even that step wasn't much of an obstacle for Joe. "I made the framing out of 2"x3" and made it all in one afternoon."
As an added step, Joe added some details to ensure his planter could be enjoyed day or night.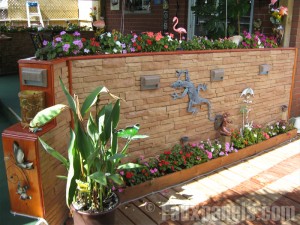 The finished product looks amazing - and is as practical as it is stylish.
"I put lights on the walkway side, and also used rope lights inside the planters, so the light shines through the plants at night." Unfortunately he didn't share pictures of the illuminated box; but we're pretty sure it looks amazing.
"It was such an enjoyable project to do," Joe writes. "I've got all these crazy ideas for the backyard." We were happy our Nailon siding helped bring one of them to life.
Joe finishes off: "Thanks for the hospitality of dealing with you people. Also the shipping was amazingly fast, like three days. Thanks again!"
We're very happy to help, Joe! And thanks again for sending in your awesome pictures and story.