Bedroom Makeovers with Faux Beam Ceilings
When you wake up in the morning, the first thing you see is your ceiling. So it makes sense that you'd like your bedroom to be an especially comforting room, with a décor that adds a cozy feel.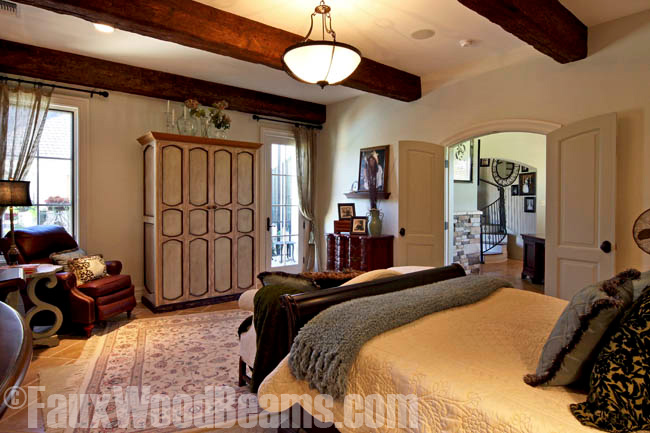 When it comes to bedroom makeovers, we often think of design elements like bedding, furniture, lighting, and the color of the walls. What we can often overlook is the ceiling. It's a part of the room that takes up a lot of square space and is important to consider when creating a beautiful bedroom design.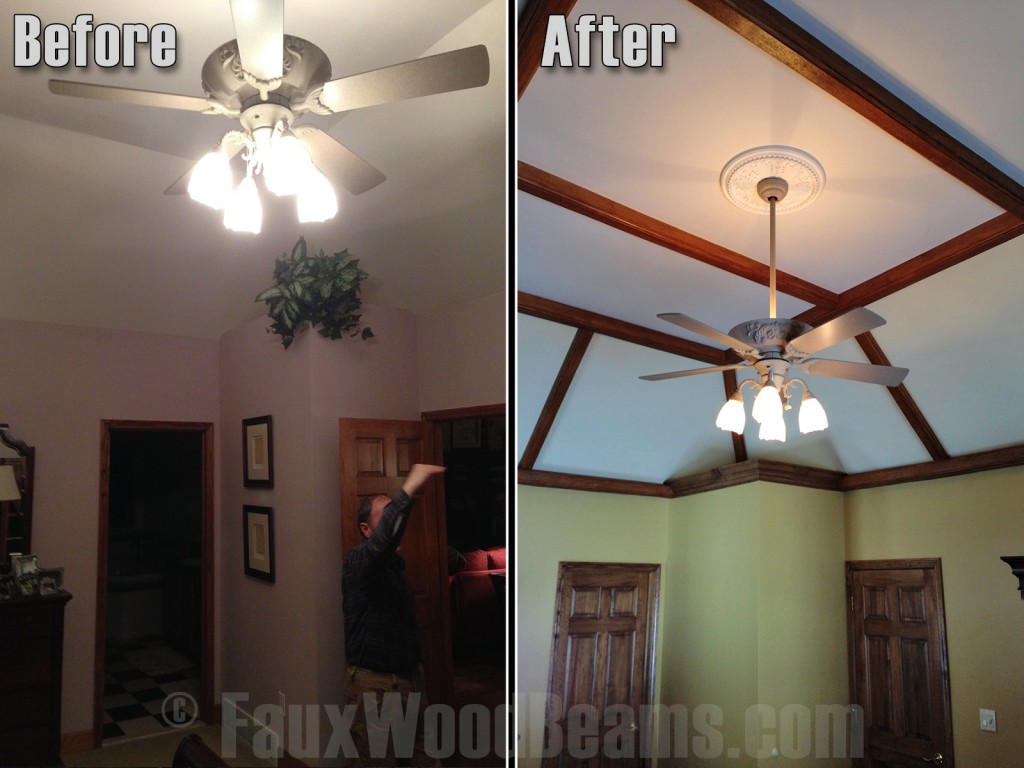 We've noticed over the years that more of our customers have created the look of an open beam ceiling to transform their bedrooms into the snug sanctuaries they should be. From simple to slightly more elaborate, below are images of great designs created by our customers, with their testimonials.

I recently installed four Custom Timber Faux wood Beams. I am not a carpenter, and it was very easy to do. And, I installed them all on my own.
Three of the beams were 8'" wide x 5" tall x 12' long. One beam was 15 feet long.
Follow the very simple instructions that come with the beams. The one tip that I would add, is to not pre-cut all of your mounting blocks. First, determine the layout on your ceiling where the blocks will be mounted. Then, because the width dimensions inside the "beam channel" vary, measure the channel at each location where there will be a mounting block. That way, when you install the beam, it will fit perfectly around each mounting block. –Joe P., Danville, CA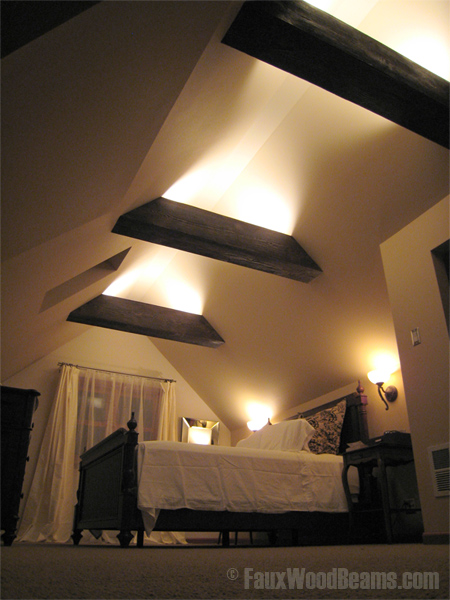 I thought I would send a picture of the installed beams with indirect lighting inside the beam. We really like the product and the beams really finish the room. Thanks! - Jay Y., Wauwatosa, WI
We just finished installing the Faux Wood Beams in our master bedroom, and we can't stop looking at them: they are astoundingly gorgeous and make the room "pop"!
We have a master bedroom, 18x24, with a coffered ceiling, that was nice, but just needed something more. We began looking for options on the internet, when we found your website. We liked what we saw, and were particularly impressed with how much your faux beams looked like actual wood. Without ever seeing your work firsthand, we decided to place an order and take our chances, with the assurance of your 30 day return policy, if, after we inspected the actual product, we did not like the way it looked. We took measurements, calculated the size and quantities needed, and placed our order.
We were impressed how fast our order came, and were shocked when we open the first box. "Oh, my God! Look at these! I can't believe how beautiful they look!" They really are beautiful, and look like stained, hewn beams. They don't look like something fake at all, they actually look real, and not just real, but beautiful! The texture, the color, all the inconsistencies of actual wood, knots, grain, light and dark colors. Just absolutely gorgeous!
Because we have a coffered ceiling, we had to spend some time getting all the angles calculated in cutting the beams to fit. Measurements probably took the longest time. The installation videos you provide on your site were very helpful, and the entire job took about 12 hours, including caulking and clean up. We started with the center four beams, then installed the sides, and finally the corbels. We are very excited, and can't wait to show our bedroom off to our family and friends.
Our next project will be the formal dining room, which we will be applying the same treatment to. Thank you so very much for the great product. We are extremely satisfied, and look forward to doing business with you again. We will recommend your site every chance we get. Sincere Regards, Dayton and Dusty R. - Somerville, TN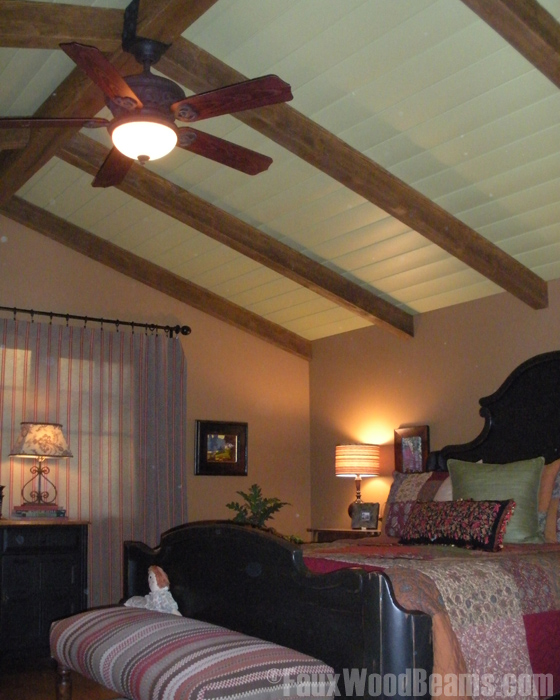 Hello – I would like to show you my project. My husband and I did the finish work in our master bedroom addition. When it came to time to do the beams, it was so nice to be able to do the installation with just the two of us. The beams were easy to cut and amazingly light weight. The large center beam went over an exisiting prelam roof rafter, descizing it perfectly. My contractor and electrician couldn't believe the beams were not real wood. We are so pleased with the way they turned out. We plan to use them again in other parts of the house. -Shari, Walnut Creek, CA
For more ideas on how you can create a beautiful ceiling in your bedroom with faux wood beams, make sure to see our Bedroom Design Ideas page.