We're constantly receiving pictures and emails from our customers, and they never fail to impress. Just as we think we've learned every way our beams can be used to create amazing home design projects, customers surprise us with new tips and tricks.
Here are a couple we're eager to share with you.
Beam Tips and Tricks for Staining and Lighting
Stain Your Beams To Match Your Wood
Faux beams are available pre-finished in a variety of vividly realistic wood colors - but sometimes that's not enough.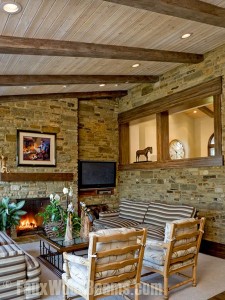 Staining these Sandblasted Faux Wood Beams meant they perfectly matched the wooden framework already installed in this beautiful room.
If you're adding the beams to a room that already contains wood features, you'll want the flexibility to make sure the new additions match what's already there.
Which is why many of our products are available unfinished; leaving you able to stain them exactly the color you'd like.
The beams are made from tough and lightweight polyurethane foam, which perfectly mimics the look and texture of real wood - right down to knots and saw-marks.
By the time you've selected the correct stain, to match any existing wood in your room, they look practically indistinguishable from the real thing.
We have a full guide on how to stain your beams here, plus a guide to detailing and staining the knots to make them appear even more realistic.
Install Tracked Lighting
We've already written about how faux beams make it easy and seamless to install recessed lighting - but what about other forms of illumination?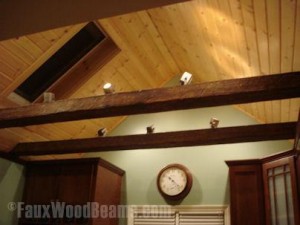 Tracked lighting is a wonderful way to add a gentle source of rich, warm light.
One neat trick to showcase a cathedral ceiling is track lighting, which installs on top of beams and shines upward, for a flattering and gentle diffusion of light.
Our beams make installing track lighting incredibly easy, because you can run the wires that power each row of lights through the hollow channel in the center of each of our u-shaped beams; something you just can't do with solid wood.
When it comes to installing the tracked lighting itself, you have a variety of options. Our beams our available three-sided, like a U, which means you can install the track inside and let the lights shine out from a recessed position. Alternately, you can order them with a removable forth side and install the lights right on top.
You can drill holes with a regular power drill to pass the wiring through, and once they're installed, it's impossible to tell that they're not real.
If you have any tips and tricks you've used with any of our products, we'd love to hear from you!