Recently, we received these awesome pictures from a FauxPanels.com™ customer, eager to show us his latest home design project.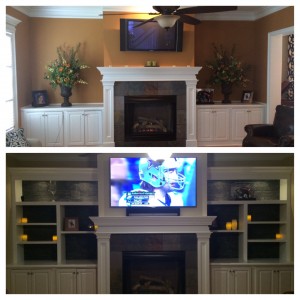 Before and After pictures show the awesome difference our faux wood panels made.
Bead Board Gets Replaced with Faux Wood Panels
Sam O., from Florida, recently sent us pictures of his living room redesign project - completed using our Oxford Rustic Barnwood Gray artificial wood panels.
"We used them to be the back of our shelves in our living room book cases," Sam writes. "It was a major difference, and so much nicer than doing just regular bead board."
Using our faux panels as a shelf backing is a great idea - and makes this bespoke carpentry project look even more impressive than it already is. The faux panels serve as accent pieces; providing the look of rustic wood boards, but at a fraction of the cost and with an installation timeline of hours, instead of days or weeks.
Sam's project started like any other - with regular drywall. His bookcase project was built directly onto the wall space there, using regular timber built on top of the existing shelves and fireplace.
This photo, taken mid-installation, shows how the panels were installed before the shelves.
Where things get impressive is in the attention to detail:
Prior to installing the shelves, Sam covered the back walls with our faux wood panels. Made from light and durable polyurethane foam, they apply directly onto the drywall with regular construction adhesive; and slot together seamlessly for a vividly-realistic look and texture. All Sam needed to do was cut them to size; which he could do with a standard wood saw.
Once that stage was completed, Sam could build the rest of the shelves and install directly onto the wall behind right through the panels. All it took were standard screws and an electric drill. The finished result made it look like that wall was covered in real stone.
We think Sam's project looks fantastic - what do you think? Let us know in the comments section below.

The finished design.