Basement design conversions are often called "man caves" – largely because they contain the wide screen TV, leather recliners and beer coolers that are deemed "manly" essentials. But all too often, the "cave" element is missing. That's a problem Lisa Lischka, a customer from Wisconsin, solved with Regency Stacked Stone panels.
Basement Man Cave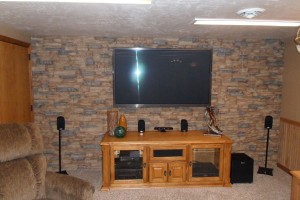 This stacked stone wall acts as the accent piece of Lisa's "man cave" redesign
When Lisa decided to remodel the basement of her Wisconsin home, increasingly popular "man cave" designs appealed to her – but how was she going to create a cave-like look with modern, sheet-rock walls and a limited budget?
Her answer was found at FauxPanels.com. Lisa got the look she was going for by buying several of our Regency Stacked Stone Panels, and paired them with Regency Stacked Stone Corners to complete the project.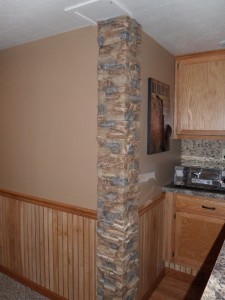 Matching corners were cut to size with a wood saw to serve as additional accent pieces
Lisa used the panels to cover one entire wall – the perfect framing for the large-screen, wall mounted TV. Then, to continue the cave-feel throughout, but leave the basement with a modern, contemporary feel, she used matching corners as accent pieces.
The effect, as you can see from the pictures she sent, is nothing short of stunning – and took very little time to create. That's because our panels are molded from durable polyurethane; which can be cut to size with a regular wood saw and is lightweight enough to mount directly to interior walls with regular construction adhesive.
The panels are also perfect for basement designs because they're 100% waterproof and impervious to mold and mildew, unlike wood or wallpaper. Given that basements can occasionally be prone to dampness or flooding, going "faux" is a great investment.
Transforming basement designs into "man caves" continues to be one of the most popular uses for our products. If you've used them for a similar project, we'd love to see the results. Email us a picture to info@fauxpanels.com and we might even feature them here!