Barron Designs Featured in Rock the Block Season 2 With David Bromstad
From the moment he signed on to design a dream home for HGTV's Rock the Block, David Bromstad knew one thing for certain: He wanted his home to have beams. And, in the second episode of the season, the real wood beams he chose from Barron Designs played a starring role in his room's transformation.
Along with teammate and fellow designer Tiffany Brooks, Bromstad is competing in the home-design show's second season, airing now on HGTV. The hit show pits four pairs of designers against one another to see which team can increase the value of their home the most by the end of the season.
The identical four new homes in Dallas, Georgia, are on the same block (thus the show's name), and the structures are essentially large, empty shells waiting to be completed. The competition unfolds over six weeks, and contestants focus on a different area of the house each week. At the end of the week, a pair of celebrity judges determines that week's winner.
"The filming's intense," Bromstad says. "It's all day, 12 to 14 to 16 hours [a day], and ... what you don't see are all the problems we had."
The living room transformation was the most difficult of the rooms they designed because Bromstad and Brooks turned part of the large space into a mother-in-law suite — complete with a bathroom. They also turned part of the entrance into a mudroom, and added a closet and library.
"That was the episode that we put the most money into. We were taking the biggest risk and we had the most to do," he says. "We had so much more to do than everyone else because we took on that much. I'm stressed out just thinking about it."
The hard work paid off when, at the end of the second episode, Bromstad and Brooks were named the winners.
"We knew it was ambitious, and it was exhausting and it was terrifying," he says. "But we got it finished — and we won."
Choosing to Work With Beams
Before filming began, Bromstad and Brooks had to decide what the home's overall design theme would be so they knew which materials to buy. (Each team has a budget of $225,000, and the winning team each week gets extra cash to spend on their home.) One of the first things Bromstad did as part of his design plan was to contact Barron Designs.
"What I do first [in my design process] is clear everything out. I want a blank room, and I want to add architecture. And the easiest way to add architecture is through beams," he says.
Bromstad and Brooks installed real wood Heavy Hand Hewn Wood Beams in the living room. They even had some product left over, so they were also able to use the real wood ceiling beams in the basement.
Because the living room had a light-colored floor, Bromstad selected beams in Cocoa to give the room more contrast. "If I had had a darker floor, I would have gone with lighter beams," he says. "I wouldn't have done the matchy-match because then you're not creating visual depth with wood. When you go into a forest, you don't see one shade, you see multiple shades. To me, creating lots of different finishes with wood … I want to have that contrast."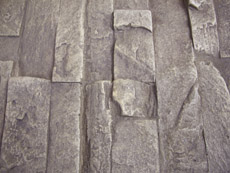 Bromstad originally planned to use faux beams for both rooms, but a team member ordered real wood beams for the living room project. That changed the design vision slightly, but ultimately, it gave them the option of adding beams in the basement.
"They turned out to be so heavy that we could only use a few of them in the living space," he says. Real wood beams vary in weight, depending on the type of timber used, but they are considerably heavier than faux options, so Bromstad says you should always consult with your contractor before installing real wood beams. Your contractor will understand how much weight your particular ceiling can safely support and how to install them without damaging the home.
Real wood beams are frequently used during construction when the beams will be needed to provide structural support. For purely aesthetic upgrades during renovations, faux beams are often a better option. The Rock the Block team's experience shows that even professionals have to use caution when using heavier real wood beams.
"I wanted to pack [the beams] in there a little bit more, but we had to place them a little bit further apart. It still has a beautiful impact."
Beams in the Bedroom
During the third episode, beams again played a key role in the design as the team installed Barn Board Wood Beams in the main bedroom. This time, the beams provided contrast in a room that used lots of color including mango, greens and blues.
"Everyone did such a great job on the main suite," he says. "Ours was weird and fun and crazy and I loved it. Again, we designed for happiness, so you're either going to love it or you're going to hate it. There's no in-between."
While that room didn't top the judges' list, it did provide an eye-catching example of how versatile wood beams are and how they can be used in many different spaces.
As the season continues, viewers will have to keep tuning in to see how the competition ends. Win or lose, Bromstad hopes that Rock the Block gives viewers new ideas about what's possible in their own homes. "I think what we are there for is inspiration," he says. "We are there to give you an idea of, 'it doesn't have to look that way; it can look this way.' And I love that."