Bar Decor Using Faux Panels
Bottoms up! Today we're going to take a look at some fantastic bar projects completed using faux panels from Barron Designs
We look back at the 1970s as the era of wood paneling and lounges, and I've got a feeling when people look back at the first two decades of the 21st century, they'll consider the ubiquitous 'man cave' or home bar to be a similarly iconic feature. I'm not sure if that will be a good thing!
But as of right now, I'm a big fan of the 'man cave' and so are millions of homeowners. A 'Man-Cave' is a dedicated space in the home - normally in a finished basement - dedicated to 'masculine' pursuits like sports, and designed with socializing in mind. In an era of gender equality, 'man caves' somehow skirt controversy because the social activities that occur in them are generally all-inclusive events. Husbands, wives, girlfriends and kids are equally welcome to gather and watch the big game; and part of the appeal of the 'man-cave' isn't so much its inherent masculinity, but the fact that the decor resembles a sports bar or family-friendly casual dining restaurant.
Home bars are just as common, and share many of the features of a 'man-cave'. One of the ways in which many homeowners get the iconic 'look' is by incorporating unique materials with a rugged look; like stone and wood. In some homes, it's possible to use those actual materials to accomplish this; but more commonly a challenge home bar designers face is finding a way to get the look of stone and wood in an affordable and practical material.
DIY Network's hit show Man Caves inspired a lot of homeowners to look to BarronDesigns.com to meet these needs, when they began incorporating our synthetic stone and wood products in their designs. In Season 6 Episode 7 of the show, Tony and Jason used our barnboard panels to create a Chinese-themed man-cave, and in Season 9 Episode 8 our Novik brick siding was used to build a home-dojo for a martial arts enthusiast.
After seeing how practical and realistic our products are, they've become a common feature in all sorts of man-caves and home bars - and below I've put together a little collection of photos demonstrating how amazing our panels can make a bar look.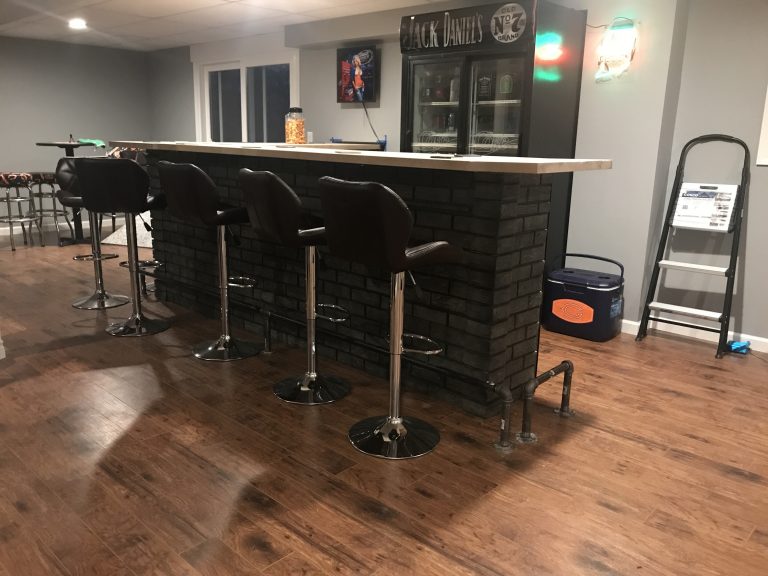 Aaron McCart created this awesome bar using our Novik brick panels.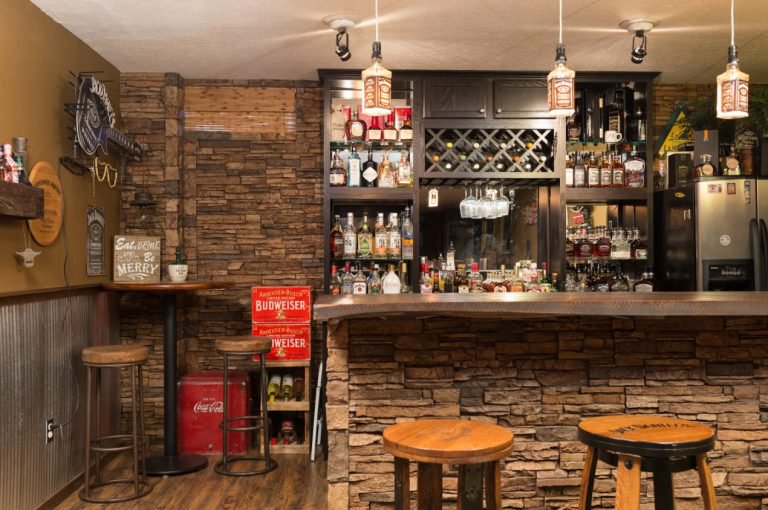 Erin Reeb created one of our all-time favorite basement bar projects using Colorado Dry Stack Panels, corners and ledgers in the Sierra Brown color.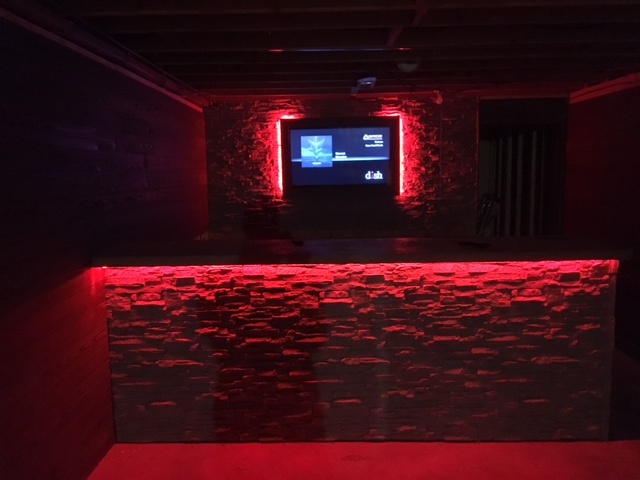 Colorado Stacked Stone panels in Frosted Gray and color-changing LED lights made for a stunning home cinema 'man-cave'.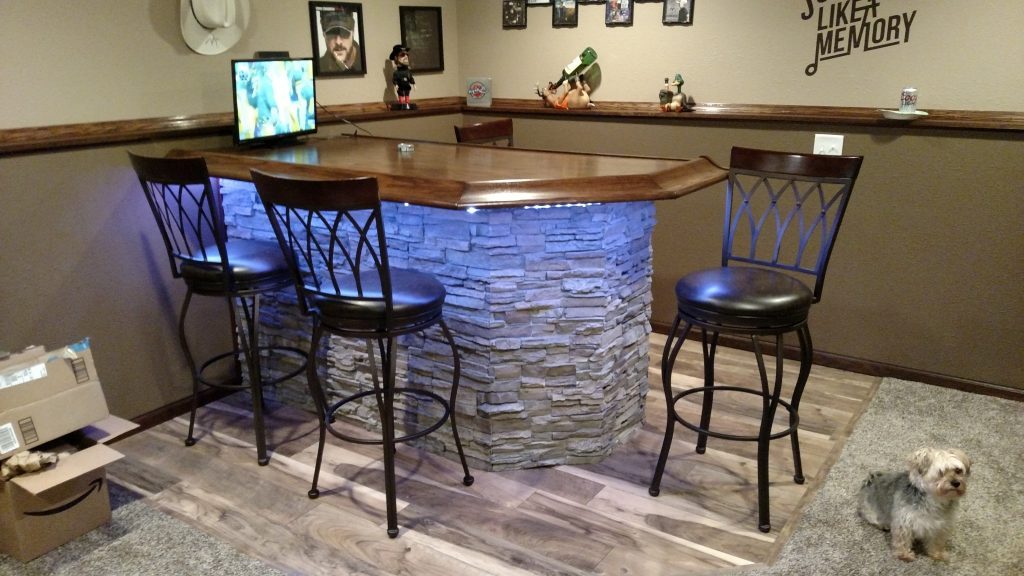 LED lights were also used by customer Tanner Westlake when he created a home bar out of Colorado Stacked Stone Mist panels.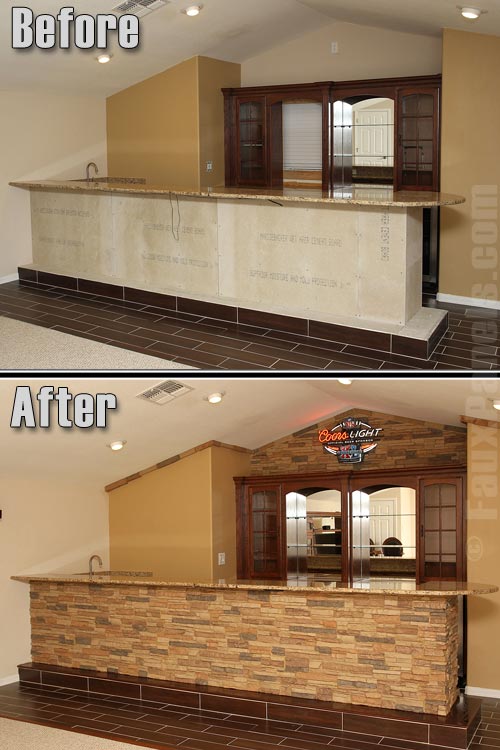 This sports bar was created using our Colorado Stacked Stone Tall Desert Sand panels and Universal ledgers.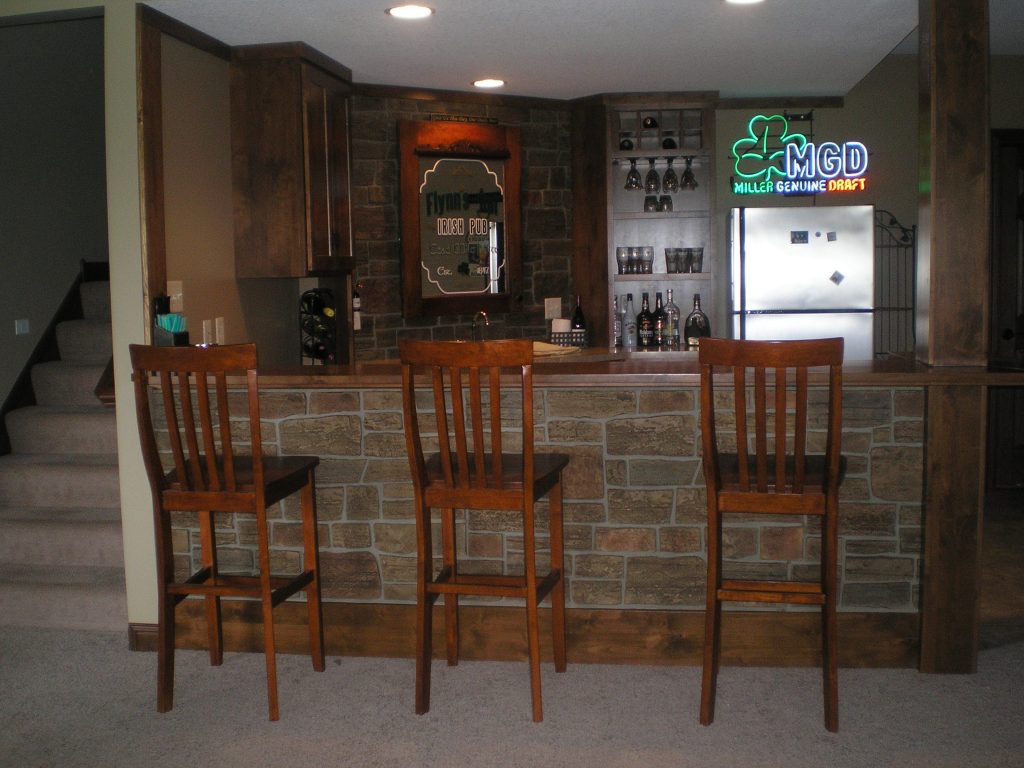 Customer Kathryn Flynn made a genuine Irish pub in her basement with our Lehigh Cobblestone - the Flynn Inn Irish Pub.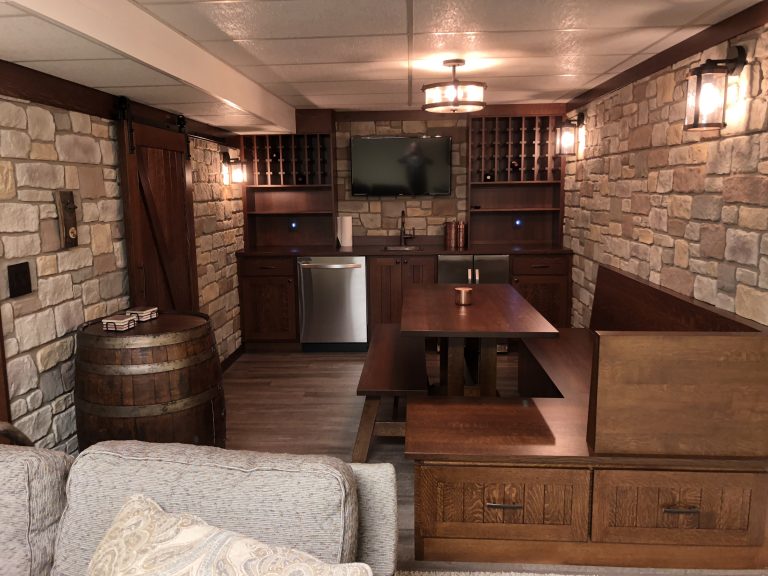 Kimberly Wirtz made a stunning French-style underground bar using our Hampton Cobblestone panels.