We recently received an email from Barney, a Philadelphia resident with an interesting problem. We think brick veneer siding might offer a solution.
Asphalt Siding Replaced to Save a House from the 1920s
Last year, I bought a beautiful 1925 townhouse in the Fairmont neighborhood of Philadelphia. Unfortunately, I didn't get a survey done before we closed the deal and was in for a surprise when I moved in.
It wasn't brick, as I'd imagined it to be, but was actually a regular board home covered in a fake brick siding made of asphalt.
Underneath, we found a lot of water damage and even an ant's nest. We had to spend thousands getting it back up to spec. Now we've made the structural repairs needed, we're trying to find a cost-effective way to get that same brick appearance without having the damp and insect problems occur again. Can you help?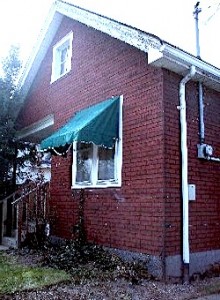 Barney sent us a picture of his Philadelphia home, finished with 1930s asphalt siding. Modern brick veneer siding would make a good replacement.
We certainly can, Barney!
Most likely, your new home is covered in an asphalt siding made to look like brick. It was a popular choice for the homeowner in the days before vinyl and polyurethane alternatives became available.
In the 1930s, brand names such as Insulbrick gave a pretty good faux brick appearance using fiberboard siding coated with tar and decorated with thin brick veneer for texture and shape.
Unfortunately, products like these had issues that have since largely been eliminated. One issue was moisture – which gathered behind the asphalt siding and led to rot and mold.
A second problem was insect control: Asphalt siding made great homes for carpenter ants and termites, and they'd often cause considerable damage behind the asphalt siding over the years.
The best option for your 1920s house is to remove the original asphalt siding and replace it with a modern alternative from BarronDesigns.com.
The great news is that this isn't an overly expensive proposition; and our brick veneer siding means you can keep the same brick appearance that attracted you to the home in the first place.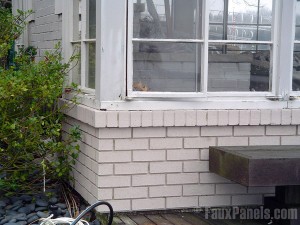 One of our customers had the same problem as Barney, and used Carlton brick veneer siding (discontinued, see our best-selling Old Chicago Brick Panels for a similar look!) to update their 1920s home while retaining the period look. Here's a photo.
The first step is to remove the original asphalt siding from your home. Then ensure all structural repairs are completed, and have the house examined for insect problems like termites and ants.
Once the structure is completely repaired, use our drainage mats to cover the surface you'll be attaching the panels to.
Required by building code in many regions, drainage mats increase moisture control and energy efficiency; making them an investment that often pats for itself within a few years.
Finally, choose a style and color of panel that suits your home and install it. We offer a variety of brick veneer panels to choose from, so you'll have no problem finding one that matches the original look of your home.
The photo you sent us suggests that our faux brick might be a good choice.
Made from durable, molded polyurethane, many of our panels have eliminated a lot of the problems that the old asphalt siding would have caused.
Our panels and siding are completely waterproof and weatherproof, and resistant to insects. They're easy to install, too – and can be cut to shape with a regular wood saw.
Using our products, you'll be able to get your new home back to its former glory – and we'd love to see pictures when you do!