When one of America's favorite brands wanted an \"old" look for their new store, they turned to us!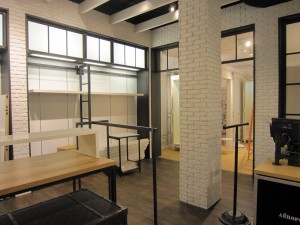 Old Chicago Brick Panels gave the look of an old warehouse to this modern storefront.
Aéropostale's New Store gets a Warehouse Look
Aéropostale is one of America's favorite brands for young adults. With a free-spirited, adventurous brand identity, each of their 992 stores nationwide shares the same look and feel; very much in keeping with the ethos of their clothing line.
But getting the old-school frontier look in a brand new mall isn't always easy to accomplish; which is why this new Aéropostale store decided to turn to us to help them get the look they were going for.
In the end, they chose Old Chicago Brick panels for the design; and we think the results look amazing.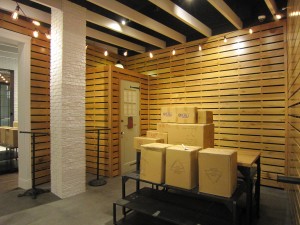 Like most storefronts, the partition walls were bare before Aéropostale's designers came in
The panels are made from tough and durable polyurethane foam, and are molded directly from real brick walls so they perfectly capture every crack, crevice and imperfection - recreating it vividly in a lightweight and versatile material.
The commercial contractors used them to cover the walls and columns -- so instead of bare, bland partition walling, it looked like the store was actually located in an old 19th century warehouse; very much in keeping with the Aéropostale aesthetic.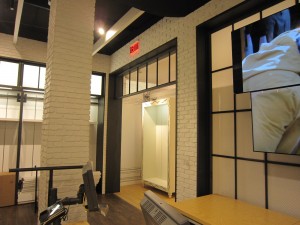 Dark ceilings and framing helped contrast the panels in Glacier White; for a classy, understated brick finish
They even went a step further -- choosing the Glacier White color.
This crisp white finish looks like somebody painted over the original brick; a style common in old re-purposed warehouses in cities like New York and Chicago - and a great way to keep the clean, branded color scheme of a national store while still providing a subtle texture that matches the spirit of Aéropostale so perfectly.
From a contractor's point of view, the panels are a dream to install. They can be attached directly to existing drywall with regular construction adhesive and screws - and each panels slots with the next, for a seamless finish no matter how many square feet you have to cover.
Pair that with the ability to cut the panels to size with a regular wood saw and you can see the benefit - being able to cover an entire storefront in a beautiful brick finish in just hours or a couple of days.
Check out the photos and tell us what you think below.