Faux is often the choice of the professional, as seen with this stunning exterior office sign.
Recently, we received a photo from David Tich, an account executive for GLS Precision Marketing in Brooklyn Park, Minnesota. The picture was of a welcome sign they'd produced for a client of theirs - using Norwich Colorado Stacked Stone Columns in Earth color.
We loved what they'd done with the columns - and, as you can see from this picture, it's an amazing sign for a local business. The columns are incredibly realistic and give the impression of a sign that would have cost thousands of dollars to produce from real stone and mortar. In terms of giving a business a sense of gravitas and legitimacy, a sign like this goes a long way... without the sticker-shock that a real hand-laid stone creation would.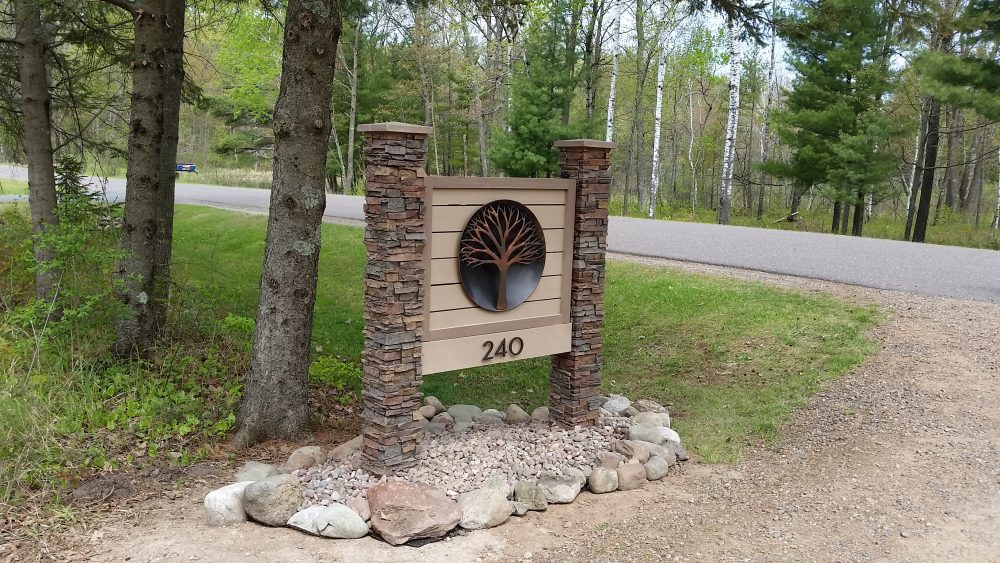 These particular columns are shipped in 4 separate sections, which connect together like a three-dimensional jigsaw to encase an existing or pre-installed post.
The first step in creating this sign was to install two supporting posts into the ground. The posts were then surrounded with gravel and larger stones around the bottom to create a really dramatic foundation piece.
The next stage was to build a plywood frame around the posts. This is very straightforward and we have full instructions on how to do that here.
The column pieces are then installed onto that plywood frame with regular construction adhesive. They interconnect at each corner for a completely seamless finish that is vividly realistic. a center-cap goes on top to complete the look; concealing the support post, and giving the impression of an authentic, hand-laid stacked stone column.
In David's case, he installed a sign between the two columns - and to do that he had to cut spots in the panels that he could feed the inter-connecting supports through to hold the sign in place.
Fortunately it's easy enough to make cuts like that. Our columns are made from lightweight and durable polyurethane foam, so cutting the required spaces needs nothing more than a regular wood saw. Careful measurement is a much more important tool, and ensures that once the connecting lengths are installed the holes in the stone texture are almost invisible.
As you can see, the end result looks great - but, more than that, it's a really good demonstration of how GLS Precision Marketing went out of their way to provide their client not just with a top-notch and world-class business sign, but one made with materials that would keep their customer's costs low. It demonstrates the commitment GLS Marketing has to the value they provide for their clients, and shows just how realistic and impressive our faux products look.
While we are super excited to share this project with you, it's worth noting that David Tich's sign is not the first. As a point of fact, many businesses love our products because they enable them to make great looking business signage that doesn't break the bank. Just take a look at this gallery here.