Walgreens, America's largest drug-retailing chain, are opening a stunning flagship store in San Francisco - and our faux wood beams are a showpiece part of their stylish interior design.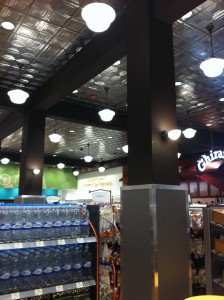 A close-up of the columns and beams reveals how seamless they appear.
Walgreen's Goes Faux
One of the reasons homeowners like to use our faux wood beams is that they project the impression of longevity and stability.
Perhaps its not surprising that retailers choose our products for their in-store decor for much the same reason.
A good case-in-point is the new flagship store of Walgreens, located in San Francisco, California.
Created by the prestigious W. L. Butler Construction company of Redwood City, this stunning new retail location features our Custom Aspen Beams as stylish ceiling fixtures.
The choice of our faux wood products was a smart and practical one. In addition to providing the look and vibrant detail of authentic wood, they offered a lot of practical benefits to the store's designers.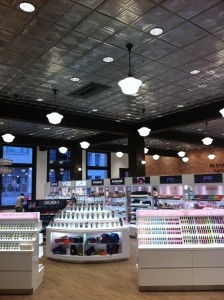 The use of metal ceiling tiles is reminiscent of the style of early 19th century stores.
Check out the photos and you'll see what we mean.
W. L. Butler used our Custom Aspen Beams not just on the ceiling, but also as covers around the structural beams.
Because our beams are molded from lightweight and durable polyurethane, it was easy to connect them together using a regular wood saw and standard carpentry techniques to create the "framework" effect used throughout the store.
You'll notice that the faux wood columns feature lighting fixtures and sconces.
These are incredibly easy to install - simply drill holes in the faux wood with a power drill and you can screw them right in.
But the clever part happens an inch deeper. Unlike with real wood, our faux beams are hollow - created like a four-sided box or three-sided u-shape.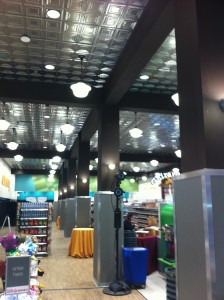 Although designed with every modern feature in mind, the style of this Walgreen's shopfront pays tribute to the golden age of San Francisco's department stores.
This gives contractors the opportunity to run wires and cables inside the box; making the power for the light scones totally seamless and hidden.
So in addition to getting the look and feel of wood at the fraction of the price of using real timber, the construction firm responsible for Walgreen's new store was also able to add these awesome features using techniques that just wouldn't have been practical with actual wood.
The result? A great looking store with an interior that most customers would never be able to tell apart from real wood.
One especially nice detail is how W. L. Butler paired our beams with metal ceiling tiles. Why? Because these are reminiscent of the style popular in San Francisco during the early part of the 19th century.
Arguably San Francisco's "golden era" - before the infamous earthquake - the design inspiration helps ensure that this modern, flagship store does not look out of place even in historic 'Frisco's city center.