NBC's new reality show, American Dream Builders premiered on March 23rd, 2014. In episode 103 titled Spanish Style, Team Red and Team Blue were challenged to remodel two Spanish-style homes in under a week. Both teams wowed the judges and the homeowners - with a little help from FauxWoodBeams.com
Team Red Scores on American Dream Builders
American Dream Builder's Team Red created this beautiful fireplace with painted tile and a Sandblasted faux wood mantel
Team Red member Dann lead the remodel of one of the living rooms. Panic set in when the team realized they didn't have enough painted tile to cover the entire fireplace.
Dann saved the day by adding a Sandblasted faux wood mantel, a rugged accent that pulled the whole look together while saving the tile for the remaining area.
Host Nate Berkus said of the final result - "It's shockingly beautiful...this was Dan's first time designing a room all by himself, and he knocked it out the park"
Team Blue's temperamental site manager Elaine landed herself in a bit of controversy when she sneaked over to the Team Red house and asked Lukas for advice on what to do with her fireplace.
Lucky for her, she was able to escape elimination with some savvy design skills in her assigned living room, adding Sandblasted faux beams to the ceiling - glossed to a high shine to highlight the room's understated, chic appeal.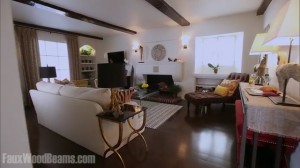 Team Blue's Elaine used Sandblasted faux beams to transform this Spanish-style living room.
Which look did you like the best? Which team member are you rooting for? Join the conversation in the comments!
American Dream Builders airs Sundays at 7/6c on NBC. Watch a clip from episode 103 below: