The time to come up with haunted house ideas is right around the corner, and faux panels can help.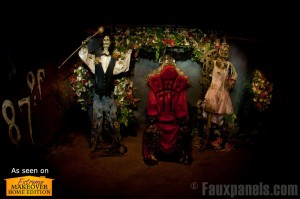 "Haunted House" Design Ideas
Sure, it's still pool and beach season, but haunted houses usually open around October 1 so planning and building starts around now. Whether your haunted house is a small community event, a fund raiser for or by a local fire department or a big event, faux stone and brick panels can create exactly the look you want.
Let's face it – most haunted house settings make you think of stone (a dungeon, castle, cavern, etc.) or brick (a haunted asylum, Freddy Kruger chasing students in a school, scary laboratory, etc.) but real stone isn't an option and faux painting only goes so far.
With faux panels, you get a realistic texture of stone or brick at an affordable price. Plus, when you set up lighting to create the atmosphere, it will naturally generate interesting shadows as it lights the panels – something you'll never get with flat walls faux painted. Even better, because the panels are made of high density polyurethane, they will hold up to the wear and tear of visitors, even those clinging to the walls out of fear.
Carlton Castle Rock panels created this medieval look that can be used perfectly in a haunted house.
Want to create a dungeon? The Stone Wall and Random Rock styles from the Regency or Wellington lines might be perfect. Or a Dracula-type castle? Carlton Castle Rock or Norwich Carolina Random Rock an create the perfect look. A creepy cavern design? Wellington Dry Stack could be a great choice.
Faux brick styles can be used to create modern or Victorian horror settings. From a horrific factory, an evil asylum, haunted school to a Jack the Ripper look, these panels are the perfect choice.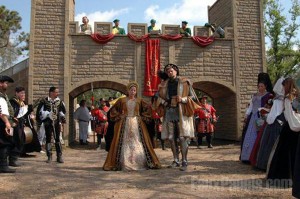 Faux rock creates the appearance of a castle for a Renaissance Fair or Dracula's castle.
You can even reuse the panels year after year, which makes them even more cost effective. Temporary installations are recommended for indoor use only because without sealant on the back, water can get behind the panels. For a haunted house or other interior set design, that's not an issue.
To use the panels on a temporary basis, toenail the screws in the "mortar" between bricks or under a protruding stone to hide the screw. The dim and/or specialty lighting of a haunted house will also work to conceal the screw head. The screws can be countersunk. Once the project is over, unscrew the panels and store them for next year.
Here's an additional tip: Since the panels will probably have to be cut for the end pieces, mark the back of each panel with a sequential number. Sketch out a rough diagram indicating where panel #1 goes, panel #2, etc. so reassembling it next year won't be like putting together a jigsaw puzzle.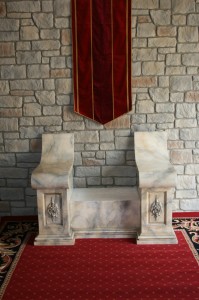 Faux cobblestone panels create an authentic looking castle wall, which can be modified for a haunted house.
In addition to haunted houses, the paneling can also be used for Renaissance fairs, set design and all kinds of historic recreations.
Want some more haunted house inspiration? Check out the video for the Nightmare Factory haunted house. Extreme Makeover: Home Edition used the Cambridge brick panels when creating it.