Check out one of the most exciting faux wood projects we've ever seen brought to life - a stunning simulated wood tress made with one of our signature arched beams.
Arched Beam Simulated Wood Truss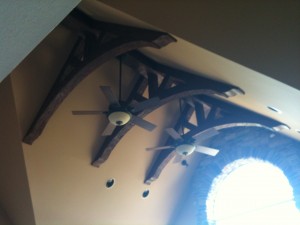 These stunning faux wood trusses were designed hundreds of miles away from where they were installed - and fit perfectly!
Recent customer Kelly W. had a bold vision she wanted to bring to life - and thanks to the efforts of George and Shari, from FauxWoodBeams.com, she managed to achieve it.
Kelly wanted to create a series of wooden trusses for the ceiling of her beautiful home - but didn't know where to start.
Fortunately, George introduced her to the concept of our faux wood panels - and once she realized that their lightness and affordability made her truss ambitions achievable, the rest was history.
"Kelly was definitely a proving ground for helping build our faux wood trusses," explains George. "She sent us pictures of the truss she wanted to build for her ceiling and we helped turn that vision into a reality."
The arched beam is the perfect way to preserve the height of the towering ceiling, while retaining the timeless look of simulated wood.
"It's definitely a "leap of faith" to believe that someone who never set foot in your house can design and estimate something that you are dreaming about," says George.
"But as she does so well, our customer representative Shari spoke with her and reassured Kelly that if she took the time to send us all the information we needed, plus some more pictures, we could help her figure something out."
But just because it was possible, it didn't mean it was going to be easy - for George and Shari, at least.
"This was a very difficult project," George admits. "With multilevel and cantilevered ceilings, not easy at all to design around."
Designing the truss was challenging enough - "but what made it possible was Shari obtaining all the minute details that were critical to making this design work before we built it."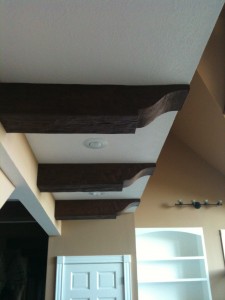 Faux wood rafter tails were another detail that finished Kelly's stunning ceiling design project.
George and Shari spent literally dozens of hours on the phone with Kelly before she finally ordered her beams - making sure that she'd have everything she needed for her contractor to build her simulated wood truss.
Shari was brilliant, allaying the customer's concerns when she asked: "Is my Contractor going to be able to build this for me from the materials you send?"
I remember Shari answering: "After the final design is agreed on and you purchase the beams, George will send such awesome labeled drawings, cut-sheets and information that if your Contractor can't do it, you may need a different Contractor!"
But as it happened, she didn't - and after following the enclosed instructions, her contractor was able to create a truss design that had only existed on paper until that time.
As you can see from the picture, the results are incredible; vividly realistic and featuring one of our signature products; the intricately curved arched wooden beam.
We were impressed - but what did customer Kelly think?
"I wanted to thank you for all of your help with my beam project," she emailed George and Shari soon afterward. "Everything turned out great!"