William Young, a retired FauxWoodBeams.com customer from Groveland, Florida lives up to his name by installing beams on his alcove ceiling - all on his own.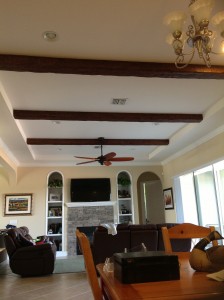 AFTER: Simplicity and symmetry ensured William's alcove ceiling looked amazing.
Alcove Ceiling Gets a Fresh Look
William Young retired in 2008 - but from the way he keeps active, you'd never know it.
The latest project William completed was so noteworthy that he decided to send pictures to prove it. In these 'before' and 'after' shots, he demonstrated his carpentry skills with the awesome installation of the Timber beams he ordered from us.
William's living room is gorgeous - with classic design touches popular in Florida, like a stylish arch feature mirrored by similarly-finished alcove shelving.
However, the ceiling was a huge, white expanse that needed some kind of framing - especially given the alcove ceiling detail which was kind of lost amidst the white paint.
Mr. Young chose to remedy that with a simple, elegant solution; criss-crossing the alcove with parallel beams to give the illusions of authentic, uncovered structural roof beams.
William's natural carpentry skills were a perfect match for this project, as it was fairly straightforward to complete but required a good eye for detail to get looking as good as it does.
The first step was to plan out the install in advance. William measured out the ceiling space and carefully spaced out his beams to ensure perfect symmetry once installed.
BEFORE: The original alcove ceiling was a great expanse of empty white space
The next step was to install mounting blocks. These are standard blocks of wood that get attached to the ceiling with regular screws. It doesn't matter what they look like - they'll be totally hidden by the beams - but it's important to line them up perfectly to ensure the beams run straight and true.
Once that was accomplished, the next step was to measure out the opposite length of ceiling and cut the beams to fit.
Our beams are molded from lightweight and durable polyurethane, and can be cut to size with a regular wood saw. However, it's important to measure them carefully to ensure that the final fit is tight and snug.
A good rule to live by is the age-old "measure twice, cut once."
Once the beams are of the correct length, a step-ladder and the help of an assistant is recommended (although our beams are so light, many people manage to install them on their own.)
The beams are also hollow, with a channel running down the inside which slots perfectly over the wooden mounting blocks. These hide the blocks completely, and the beam gets secured with regular screws drilling through the high density foam beams and into the mounting block beneath.
Once installed, the beam sits flush with the ceiling and it looks like it's a structural part of the ceiling itself.
As you can see, the installation process is fairly straightforward - but like all the best design projects, the reason William's ceiling looks so good is that he carefully thought it all out beforehand. The perfect symmetry, deft cuts and sleek installation are what makes this ceiling look so awesome.
Have you used our beams in a ceiling alcove? If so, we'd love to see pictures. Email them to us at info@fauxwoodbeams.com. We might even feature them here!